Event – Fresh Audio @ Secrete Location – Echopark, CA – 2/25/12
Fresh Audio @ Secrete Location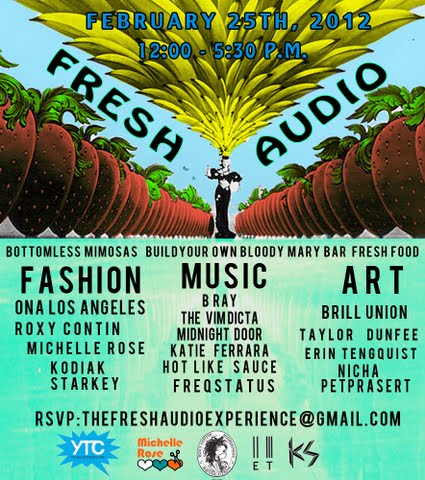 Fresh Audio 12pm-5pm
Secrete Location
Tickets: $10 w/ RSVP at
THEFRESHAUDIOEXPERIENCE@GMAIL.COM
This party is invite only.
RSVP:THEFRESHAUDIOEXPERIENCE@GMAIL.COM w/RSVP IN THE SUBJECT LINE
(Address will be provided Friday at noon) Echo Park Area
Fresh Audio
is a day time party experience like no other. Our goal is to create a party that will allow you to indulge in a wide variety of artistic mediums including Live Music,Art and Fashion.
Fresh Audio
is about relaxation and rejuvenation and the perfect way to spend the time between Friday night and Saturday night.
Music from: B-Ray, The Vim Dicta,Midnight Door,Katie Ferrara,Hot Like Sauce and Freqstatus.
Fashion from: Ona Los Angeles, Roxy Contin, Michelle Rose and Kodiak Starkey.
Art from: Brill Union, Taylor Dunfee, Erin Tengquist and Nicha Petprasert.
$10 @ The Door w/ RSVP
Bottomless mimosas from 12pm-3pm
$3 Shots
$3 Beers
$3 Mimosas
$5 Build your own Bloody Mary Bar
$4 FRESH squeezed juice
$4 FRESH clean food
Set Times:
Hot Like Sauce: 12:00pm – 2:00pm and in between sets
Katie Ferrara: 2:00pm – 2:30pm
Midnight Door:3:00pm – 3:30pm
B-Ray: 3:30 – 4:00pm
The Vim Dicta: 4:00pm – 4:30pm
Freqstatus:4:30pm – 5:30pm
Hosted by: Lorn Poppinoffinstein of YouTellConcerts.com