Event Guide – EDC Vegas 2011 @ Las Vegas Motor Speedway – Las Vegas,NV – 06/24/11 – 06/26/11
EDC Vegas 2011 event guide
Well, it's official. It's EDC week in Vegas, and EDC Vegas is just a few days away. The question is… are you ready? Here is a list of things that you should have probably already taken care of or need to be aware of .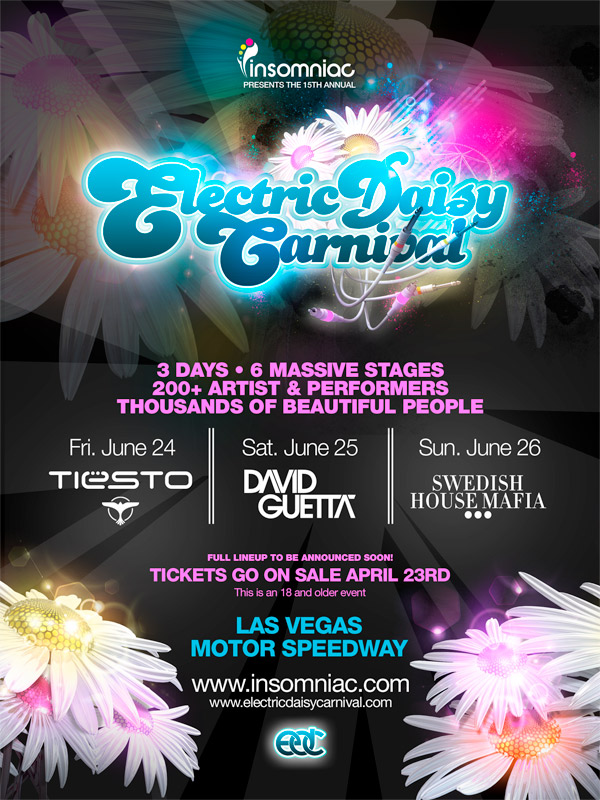 Transportation: Do you have someone to carpool with? Is your airfare taken care of? Carpooling is a great way to go, and if you rent a car, you won't be putting extra miles on your car. With three or four people chipping in, it can be an affordable option. If not, you can still get a round-trip ticket from LAX to LV for around $200.
What about getting to the fest?  Don't plan on taking a cab, as it could cost upwards of $300 each way. I would also recommend not driving unless you have a reliable DD, EDC is about 20 miles away from the strip and heavy traffic is expected to and from the festival.
The best option I have found is to purchases a 3-day shuttle pass that will take you from one of seven locations ( Mandalay Bay, Monte Carlo, Mirage, Circus Circus, Palms, Hard Rock, & Golden Nugget) directly to EDC Vegas for a mere $60 here
Lodging: Have you booked your hotel yet? If so, you're lucky, and if not, prices are going up;  so, you should get on that ASAP! If you're looking for a deal, sites like Priceline.com and Hotwire are great places to check.
Tickets: Single day EDC Vegas tickets are SOLD OUT for Friday and Saturday, but you can still buy a GA 3-day pass for $231.00 here
There are no paper tickets for EDC Vegas.  All tickets are loaded onto a plastic card that can be verified here .  Make sure you don't get scammed and that you buy a legitimate ticket for EDC Vegas.
Lockers: EDC Vegas  runs from 8pm-6am (10 hours) and thats a long time to have to carry around a bunch of stuff (sunscreen, sunglasses, costumes, hats, etc..).  If you don't want to carry your GF's purse all weekend, the best option is to secure a locker. They start at $55 here .
Identification: EDC Vegas  is 18+ and 21+ to drink. Make sure to bring a state-issued ID or a Passport, so you're not left out on all the fun.  I have a feeling they will be extremely strict on ID's this year, as the folks at Insomniac are working with several different security companies to make sure this year's EDC Vegas  goes of with out a hitch.
Hydrate: Hydration is by far the most important thing to keep in mind while at EDC Vegas.  The fact of the matter is,  if you dance like a maniac for ten hours straight, you are going to need to drink some water.  Water will be sold on site, but if you buy an official Insomniac water bottle, you will be able to refill it the entire weekend free of charge. When you get to the fest, make sure that picking up a water bottle is your first order of business.
Schedule: First off, make sure that you see whoever you want to see while at EDC Vegas.  I am sure all of your friends will have their own agenda, but you should feel free to explore and see the artists you want to see.  I usually suggest not making a schedule and just seeing where the wind takes you; but if you are dead set on catching certain artist, you can use the MYEDC schedule maker to plan out your weekend.
Here is a look at my recommendations and tentative weekend plans.
EDC Vegas Schedule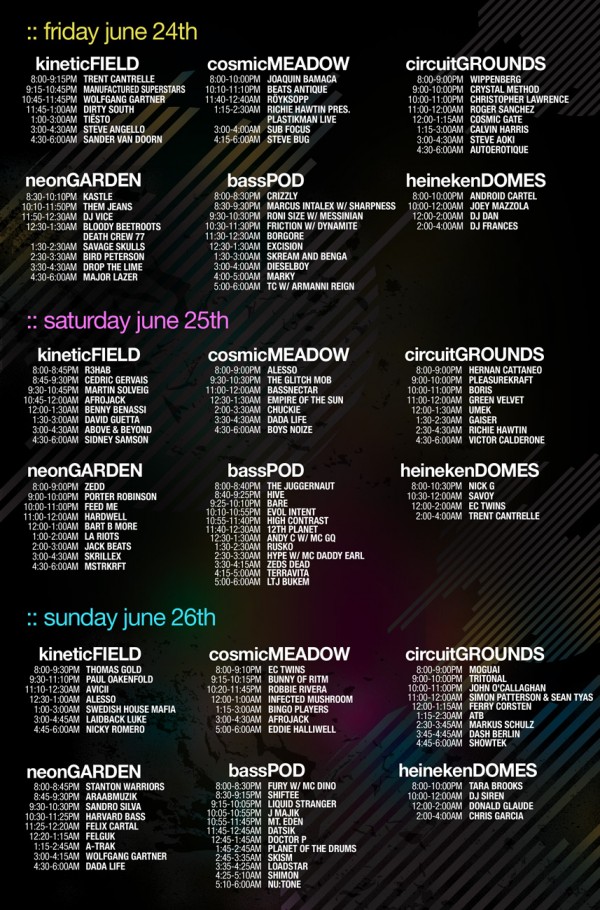 Vibes: Go to EDC Vegas to have fun, not to prove a point and be a total dick.  I'm just going to get down and have fun with friends. Go with good vibes, and good vibes will surround you. EDC Vegas will be filled with all different types of people who like different types of music, and if anyone is going with the intention to cause problems, I hope they decide to stay home.
Meeting spot: If you and your friends plan to part ways,  pick a meeting spot, so at some point in the night everyone can regroup.
EDC Vegas Venue Map
Zero Tolerance: Here is a copy of the EDC Vegas Zero Tolerance policy, please abide by it to the best of your ability.
"The use or possession of any illegal drugs will not be tolerated anywhere inside or outside the venue. Narcotics officers will be working both areas and enforcing all drug-related laws. Do not bring any illegal substances to the event, as violators will be prosecuted to the fullest extent of the law. If you are found inebriated at the door, security will not allow you to enter the venue. Event staff reserves the right to refuse entry to anyone. Please come with a smile and be prepared to enjoy three nights and two nights of music, dancing, and the full festival experience of Electric Daisy Carnival."
Day Parties: For those of you who feel that 10 hours of intense partying  just isn't enough, there are several day and pool parties going on.  Here are a few parties that caught our attention:
Boys Noize @ Liquid 06/25/11 – 11am- ?
Benny Benassi @ Tao Beach 06/25/11 – 10am-6pm $30
Taryn Manning @ Hard Rock Beach Club 06/25/11 – 2pm-4pm
Above and Beyond @ Tao Beach 06/26/11 – 1am – 6pm $25
Bassrush Smog Smash w/ 12th Planet, Kastle and many more @ LVCS  – 12pm-? – $15
Avici @ Marquee Day Club 06/26/11 – 11am-7pm
We hope that this guide to EDC Vegas helps you out on your EDC adventure. Please be  safe, responsible and courteous at EDC Vegas.