Event – No Shirt No Shoes @ The Standard DT – Los Angeles,CA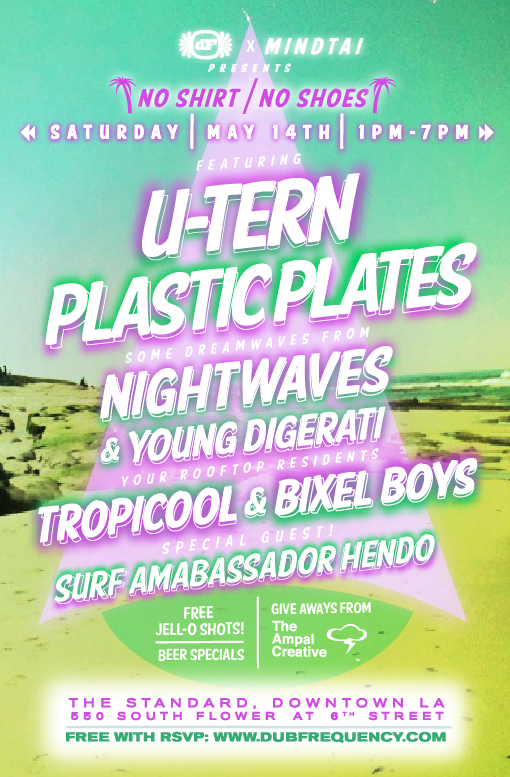 NO SHIRT / NO SHOES w/ U-TERN & PLASTIC PLATES, Night Waves, Young Digerati
The Standard Down Town
Los Angeles, CA
Free w. RSVP here – http://bit.ly/lBPvfm
Can we get much higher? A question worthy of asking if you were at the last No Shirt / No Shoes Pool Party with Futurecop! and Poolside, however taking a look out the window and feeling that Southern California sun lightly toast the LA skyline . . . the answer is undoubtedly yes.
…So grab some SPF 15 (not that 45+ shit, what u tryna look purple?) and get a good lather because dF is back at the roof with the 2nd installment of No Shirt / No Shoes featuring smooth summertime sound waves Canadian-LA Transplant disco sultan U-TERN. More? No worries. Fresh off being featured as The Magicians opening track on Magic Tape 10, PLASTIC PLATES will be coming on board to sprinkle that feel good in your wine cooler.
Special guests Young Digerati (San Francisco), Nightwaves (Binary) and Surf Ambassador Hendo (AMPAL) will charge out some tunage.
And of course your rooftop residents Tropicool and Bixel Boys bringing you the finest in sun-kissed jams to celebrate the launch of Mindtai!!
Providing some swag will be our friends from The Ampal Creative, celebrating the release of their 2011 Summer Collection.
Don't be dumb . . . be here.
Free w. RSVP here - http://bit.ly/lBPvfm