Review – Guitar Hero: Warriors Of Rock Launch Party w/ Soundgarden @ Paramount Studio – 09/27/10
Guitar Hero: Warriors Of Rock Launch Party w/ Soundgarden @ Paramount Studio Concert Review
It was the hottest day on record in the city of Los Angeles, CA (113 degrees Fahrenheit) and it was about to get hotter! Soundgarden was playing a secrete show at Paramount Studios in Hollywood to celebrate the release of their new album "Telephantasm" and the release of the new Guitar Hero game "Warriors Of Rock".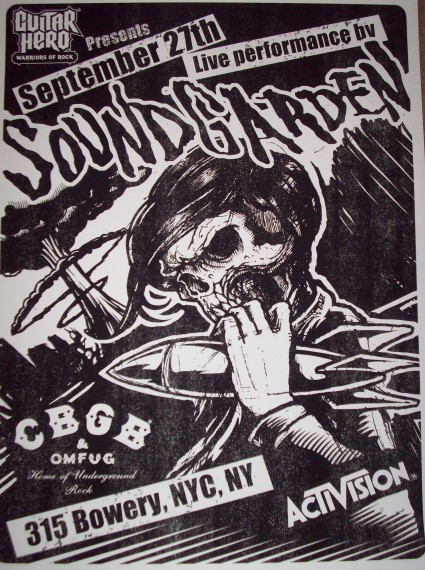 The performance took place on the New York city back lot at in a small tent that was made up to look like NYC CBGB night club. A night club that was a staple for emerging punk artist from the late 70s till it closed in 2006. The entire theme was very cool and added a lot to the atmosphere of the party. The tent was air conditioned, but nonetheless, was still a sweet box.
This was the first time I had seen Soundgarden and I must say that their reemergence is just what rock and roll needs.  The entire set rocked and was heavy hitting.  My ears are still ringing! They played an 8 song set that included hits such as "Spoonman", "Burden In My Hand" and "Black Hole Sun." They also preformed their new single "Black Rain" off their new album. ( "Far Beyond The Wheel"  was cut from the set due to time constraints)
Soundgarden @ Paramount Studios 09/27/10 Setlist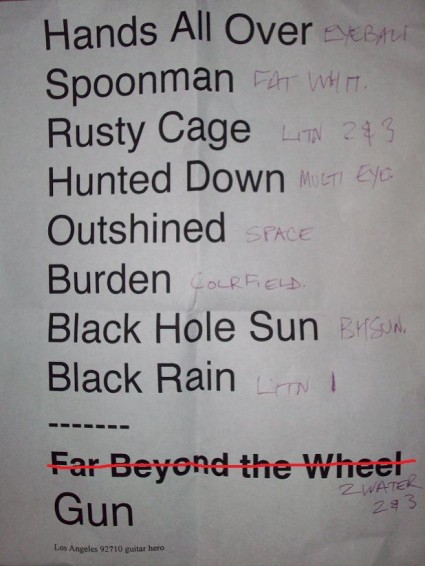 Prior to preforming "Black Rain" Chris Cornell explained they hadn't practiced the song very much and that it sounded kinda shitty. He also informed the crowd that this was the first time they had preformed the tune live and may very well be the last. I personally thought that the song sounded pretty good  and fit in with all of the other songs that the band preformed at this show.
Final thoughts: I am more than overjoyed to finally see Soundgarden live!  However, there were some audio issues. Chris's vocals were not properly mixed due to the venue, so it made it kind of difficult to fully enjoy his voice. I have seen Chris Cornell several times and I know that he is capable of far better than what was heard at this concert. Nonetheless, this show was of the chain and I cant wait to see Soundgarden again! Hoping for a 2011 tour

-lorn