Ep.466 – Hall & Oates @ The Hollywood Bowl – Hollywood, CA – 07/03/11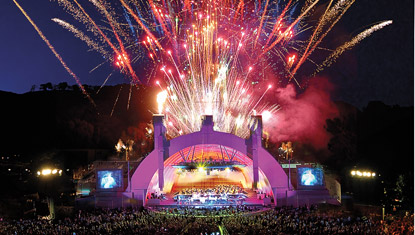 The Hollywood Bowl 4th of July fireworks spectacular (4JFS), has no doubt be came a tradition for myself and thousands of others throughout the Los Angeles area. Tickets are affordable, the music is always top-notch, and the fireworks are the best-of-the-best – therefore, creating the ultimate 4th of July experience.
Hall & Oates @ The Hollywood Bowl
video concert review
Hall & Oates @ Hollywood Bowl concert review
Tickets for this years 4JFS featuring Hall & Oates were hard to come by. It was the first 4JFS that I have ever attended where tickets to the show were actually SOLD OUT. Out of the crew, I was the only one to actually get a ticket for this show, thanks to Sagel (.53sec)! I hadn't been to a show at the Hollywood Bowl yet this year and had to take advantage of the ticket I some how managed to score. A concert at the Hollywood Bowl is always best when you can share it with friends, but I was fine with rolling out solo.
The 4JFS started off with the Los Angeles Philharmonic/ Hollywood Bowl Orchestra playing some classical jams. Then, there was a brief intermission before Hall & Oates. Hall & Oates took the stage and began to perform their hits "Maneater," "Sara Smile," " Private Eyes," "Rich Girl," and "You Make My Dreams." The first few songs were a bit shaky, as Daryl Hall's voice hadn't warmed up yet. I had heard this about previous performances and it held true. Regardless, about three songs into the set both Hall & Oates were on top of their game.
The crowd at the 4JFS was a mixed bag of nuts, half of the crowd was party people and the other half were families coming out to celebrate the 4th of July. This caused a few issues when it came down to dancing and singing along. The families were looking for a nice quite evening, and the party peeps were looking to get down.
Hall & Oates performance def impressed me and in a lot of ways had many jammy aspects to it. I would most likely see Hall & Oates again as their show had energy and fine musicianship. As for the Hollywood Bowl Fireworks Spectacular…I can't wait for next year! -lorn
Hall & Oates Fun Facts:
Hall & Oates are an American musical duo composed of Daryl Hall and John Oates. Hall & Oates achieved their greatest fame in the late 1970′s and early to mid-1980′s. Both sing and play instruments. Hall & Oates specialized in a fusion of rock 'n' roll and Rhythm and Blues styles, which they dubbed, "rock 'n soul." Hall & Oates' songs were filled with strong hooks and melodies that adhered to soul traditions without being a slave to them by incorporating elements of New Wave and Hard Rock."
Hall & Oates are best known for their six #1 hits on the Billboard Hot 100: "Rich Girl," "Kiss on My List,", "Private Eyes," "I Can't Go for That (No Can Do)," "Maneater," and "Out of Touch," as well as many other songs which charted in the Top 40. They last reached the pop charts' Top 40 in 1990 and slowly faded from public view, though Hall & Oates did not formally break up – wiki