Happy Coachella 2010 – Let's Rock!
We are only 1 day away from setting foot on the grass of the Empire Polo Fields in Indio, CA and getting out of our minds while we gorge ourselves on the buffet of music that will surround us.  The Coachella Valley Music and Arts Festival is finally here!
Weather is looking awesome!!!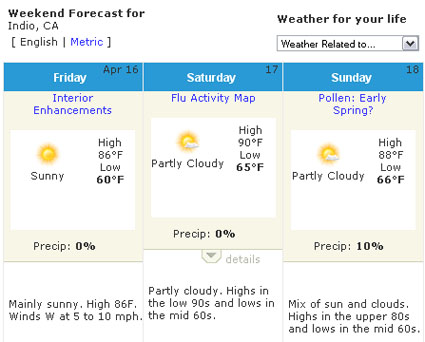 This year we've just about scored all the tickets and access we need for the YTC  crew!  We're rollin' deep and plan to be at the festival in time to walk in when they open the gates.  Who knows where we will wind up!  Personally, I can give you a quick run down of the artists I am most excited to see!
FRIDAY:
Jay-Z (Rumors of Dr. Dre stopping by!)
*LCD Soundsystem
*Street Sweeper Social Club
*Vampire Weekend
*Passion Pit
*She & Him
*The Whitest Boy Alive
*La Roux
*Imogen Heap
Grizzly Bear
*Pretty Lights
*Proxy
*DJ Lance Rock
SATURDAY:
*Muse
*MGMT
Hot Chip
*The XX
*Flying Lotus
The Raveonettes
*Band of Skulls
*Girls
*Portugal, The Man
*Les Claypool
Major Lazer
*Dirty Projectors
2ManyDJs
*Die Antwoord
Z-Trip
Bassnectar
Craze & Klever
SUNDAY:
Gorillaz
*De La Soul
*Thom Yorke
Phoenix
*Sly Stone
Meyer Hawthorne and The County
Miike Snow
*Julian Casablancas
Matt and Kim
*Club 75
Rusko
*denotes an artist I have never seen perform live
Although listed lasthere, he's definitely not least!  You gotta check out the dubby beats of my man RUSKO!  He's playing the 2:30pm slot in the Sahara Tent on Sunday afternoon, but I promise you won't want to miss it.
Check out this video I did with Rusko and 12th Planet (playing Coachella Parties and in the campground) in Miami during WMC a few weeks back…

Another exciting thing to point out is the fact that this will be the 3rd  year in a row that YTC has presented HAPPY COACHELLA stickers to festival goers who say "Happy Coachella!"  Make sure to track us down and say "Happy Coachella!" to one of the 2010 stickers for yourself!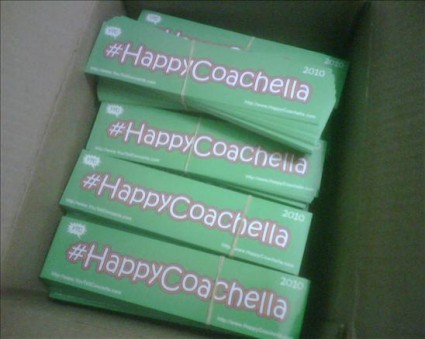 If you are wondering where to go and where to park when you arrive at the festival, check out this nifty parking map that was recently released on the Official Coachella website!

We will be tweeting live from the Polo Fields so make sure to keep up with us as we try to stay alive during the desert mayhem.
I will be updating this post with more info, video, and a few tracks to jam over the course of the next day!
HAPPY COACHELLA!!!