Ep.491 – Joesph-Gordon Levitt's hitRECORD @ The Orpheum Theatre – Los Angeles, CA – 10/10/11
I had seen Joesph Gordon-Levitt at the Hollywood Bowl a few months back during a tribute to Serg Gainsbourg. I really dug Joseph Gordon-Levitt's performance and was really excited to him again. I wasn't exactly sure what hitRECord was all about. I kind of figured it was going to just be Joseph Gordon-Levitt and a backing band doing cover songs for an hour and a half. After talking with a friend, I found out a bit more about the show. I discovered that the concept of the show was that a bunch of different people shot it, and it was later edited into a film. I was a lot more excited after finding this out and headed to hitRECord.org.
Once there, I found out that the show would also feature short films and stories.  Walking in the door, I knew I was in for an experience, and I was not disappointed.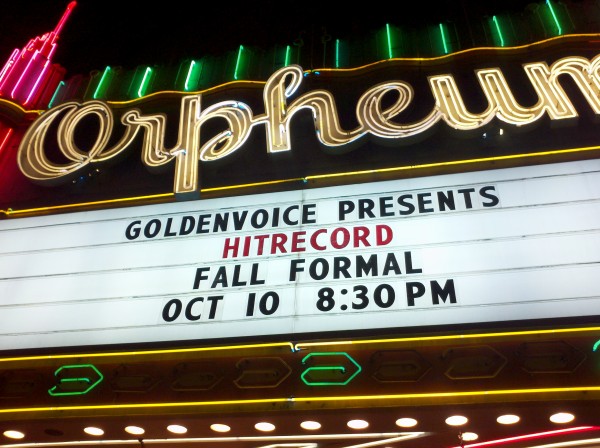 Joesph Gordon Levitt 's hitRECORD Fall Formal @ The Orpheum Theatre Video Concert Review
Joesph Gordon Levitt  hitRECORD Fall Formal @ The Orpheum Theatre Video Concert Review
Joesph Godron Levitt's hitRECord was vaudevillian in nature. There was a variety of entertainment, and the show was designed to be a night out.  I was shocked at the amount of people actually dressed up in formal wear such as suits, gloves and fancy dresses.  I looked like a champ in my Lucky Charms T-Shirt! Joseph Gordon Levitt was the host for the evening and was bursting with energy and enthusiasm for his creation hitRECord.org.
hitRECord.org is a production company and a amazing idea that is inspiring in nature.  The premise of the site is that artists, filmmakers, writers and pretty much anyone that wants to get involved come together and collaborate on each other's projects.  Its an open platform for people to take their ideas and skills and put them into full effect.   Joseph Gordon Levitt then searches the site for marketable material and art. When he finds a piece that he likes, he begins to market it, and if he is able to turn a profit from the work, he splits it 50/50 between the artist and the production company. Everyone gets paid.
The hitRECord Fall Formal was a showcase of works that were produced by hitRECord. Although there wasn't as many musical acts as I expected, I must say I was very impressed with a lot of  pieces featured.  One of the things I enjoyed was the presentation of the "Short Stories:" a series of films, illustrations, and well, short stories. All of the stories were made you laugh and had a good moral to them.
On the music side of the show, I really dug all of the songs. The songs that were performed were all creations of hitRECord.com. Special guest singers included Sia and Anne Hathaway. Sia sang a few songs during the set and it def was a treat.  Sia has an amazing voice and was a great addition to this show.  Anne Hathaway joined Joseph Gordon-Levitt and another singer to perform a song in French, which I thought was really cool. Joseph Gordon-Levitt performed around six songs throughout the show and has true musical talent.  My favorite songs out of those that Joe performed would have to be a song called, "I Have No Cats."
Other surprise guests at this show included Neil Patrick Harris who did a skit with Joseph Gordon-Levitt on the subject of "love." This part of the show was a crowd favorite. Gary Oldman also took the stage and read one of the "Short Stories" entitled, "The Man With A Turnip For a Head."
This show had its kinks, but that's what made it so special. This entire show was an experiment, and I am so incredibly glad to have been a part of it. I will be attending more hitRECord.org shows in the future. If you consider yourself the creative type, I highly recommend checking into the site and what it's all about.
If you were at this show, please comment on this video and let me know what you think, because I love fan reviews and when "You Tell Concerts…It's Cooler!" -poppinoff