Interview: Max Collins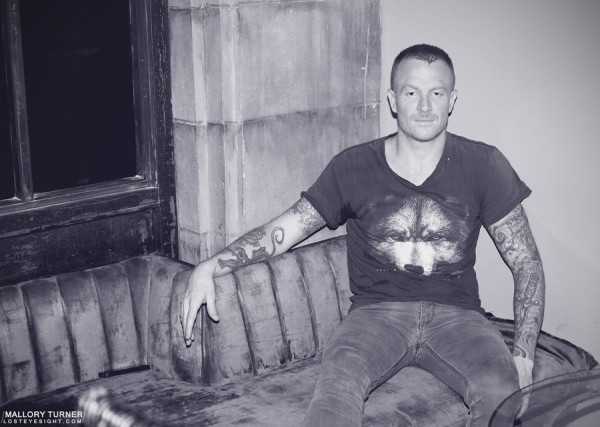 This past Wednesday I went and checked out Max Collins at Hemingway's Lounge in Hollywood. You may know him as the front man of EVE 6, who saw much success in the late '90s/early '00s with hits like  "Inside Out" and "Here's to the Night". The band came back from a four year hiatus in 2008, started playing shows again and released a new record in 2012. While still keeping active with EVE 6, Max recently released his first solo record that was fully funded from a Pledge Music campaign. Creative incentives for pledgers helped the campaign to surpass it's goal and receive 134%  total funding.  He's already released two music videos for the album so far – for "Sports Bar" and "World on Fire." Check them out at bottom of the post! Both videos are pretty strange, to put it simply.
He's been doing a decent amount of local LA shows in support of his new record but I had yet to be able to make it out to one. I've been a long time EVE 6 fan so I was pleased to get the opportunity to sit down and talk with Max after the show. Thanks to Annie Sewell for contributing to the interview.
What made you go with the Pledge Music campaign versus traditional methods?
It sounded provocative and different after being part of the traditional machine for a long time. It sounded really cool, like something I could forge myself, and also a way to have an interaction with my audience that I haven't had before.
Was going with a record label something you were considering at all for this album?
I wrote all the songs in the course of a month, so there was no design about it, as I started to get like halfway through the writing for the record when I knew that it was a record, probably a solo record.  I just kind of got straight to recording, and wasn't thinking big picture really at all. I just started recording and three weeks later I was done tracking. So it was like okay, 'What's our best kind of option are right now?' and that was sort of the first option that was presented to us. It sounded cool. I was blessed with a lack of foresight or anxiety about it until once I saw the ticker graphic on the page, I was like am I going to make it?  But by then it was too late for me to back out. It all happened so quickly I didn't have time to overthink anything.
I've always been drawn to the "play on word" style in a lot of your lyrics, do you know what inspires that style in your lyric writing?
As a music fan, a lot of people don't really care about the lyric and I've always have cared about the lyric. That's a big part of the decision that I make very quickly as to whether I like a song or don't like a song. Is there a grain of truth, or whatever it might be – or entertainment value or some narrative thing that's fun. I guess that I'm a fan of songwriting, and that makes me want to emulate that; and the next thing you know I have my own song.
Do you have a specific songwriting process or does it vary song to song?
The stuff from Honey and the Icebox was definitely like waking up every day and writing, sort of writing with a purpose even though I didn't necessarily know whatever  stuff I was writing. I was still like, 'Okay, it's writing time.' It was just an inspired few weeks. It's usually like, I pick up my guitar, I strum chords, I make sounds with my throat, something interesting happens or it doesn't. Sometimes its just a melody with gibberish over it, sometimes it's a lyric.
Was it the same process when you were writing songs for Eve 6 or was that more of a collaboration?
It was the same thing at the beginning of writing for Eve 6, and at the end of writing for Eve 6, in the middle it was all so pressure cooker-ish and I was sort of out of my mind for a lot of it too. So some of that was going to the studio to make a record with not that much written…that happened a lot in the second and third record. The first record was just me in my parents' bedroom writing songs, it was a little bit more like this process.
What are your thoughts on the changes in the music industry over the years and on how music is being accessed today? 
There's a lot of good that comes with it, for artists like myself that have a small but loyal fanbase. Case in point the Pledge Music thing, my fans are my record label,  and we have this symbiotic relationship; but at the same time [the past industry] allowed me that fanbase, and the money from the major label and being able to crisscross the country god knows how many times and cultivate that.  I feel like its sort of good for someone like myself; I don't know if it's good for new artists or not, I guess for the lottery winners it is I suppose.
What music are you listening to at the moment?
The Beatles' Revolver has been on heavy rotation in the car, The Lemonheads It's A Shame About Ray, that's been my favorite record since around 7th grade, that's getting a lot of play. The Belle Brigade I'm a huge fan of – love what I've heard off their new record.
Are there difficulties when simultaneously playing/promoting your band and doing the solo thing?
I'm trying to make the best of both. I'm doing a radio campaign for the Sports Bar single that starts next week. I'm going to be around the country, bringing my guitar into radio stations and doing that thing  - promoting my new record as well as being out on the road with Eve 6. I still like playing the loud rock with the band but when it comes to creating stuff I need to be able to just follow that on my own time.
With solo artists in general, how do you feel about people using the band name to bring their fans over versus staying away from that?
It's not something you can avoid, so for me I keep them as separate as I can in a way, not playing solo stuff with Eve 6, and obviously not [vice versa] They're just very different worlds; and I think there's some crossover with the fan base, but there's a lot of Eve 6 fans that are like 'Wtf?' with this stuff; which is great, that's okay.
Are there any plans to tour solo nationally or are you sticking local for now?
Yeah, I have a agent for the solo thing called Resolutions and they're awesome; they're looking for opportunities this fall for me to open for someone sort of similar to this.
Both your new music videos were shot in Joshua Tree and featured the same Native Indian character, tell us the story behind that.
My friend Thad who directed both the music videos, he was shooting a short film in Joshua Tree a few months ago, and the director of the film was bragging about his [BMW] and how people drive BMWs in Kuwait, and right after he said that his car broke down, and there was no cell reception within walking distance. Francis happened to drive by, get their car towed and fixed it himself. Then shortly thereafter Francis had built on his 5 acre property in Joshua Tree a fully functioning Old West saloon, and when I saw that I knew it would be perfect. Once I heard about Francis and saw what he looked like I wanted him to be in all the videos. For the next one he's bleaching his eyebrows and hair blonde and he's going to perform the song as me.
Do you know what song you're going to use for the next video?
I can't decide if I should do "Push it Down", "Perfect Crime", or "Woah Woah Woah", and I need to make up my mind very quickly cause he has to learn he words, and he's an unpredictable fellow.
You have a lot of tattoos, which one has the most significant meaning?
There's only one that has any sort of significance at all to be honest with you; and that's this [ half-apple tattoo] I got though the Pledge Music campaign, one of the rewards was matching tattoos and I got this with a fan, who's here tonight actually. We both happened to have read the same book around the same time. The Orchardist by Amanda Coplin, it's a symbol from that. Whereas the other ones I gave my arm to my friend, I was like 20.
_________________________________________________________________________________________
Check out my photos from the show below, and make sure to check out Max here in LA while you can! His album release show is this coming Wednesday June 4 at Hotel Cafe in Los Angeles. The full live band definitely adds an awesome element to the songs you don't get from listening to the record.
Photos – Max Collins at Hemingway's Lounge