Interview // Shai Hulud
Shai Hulud @ The End – 1.19.14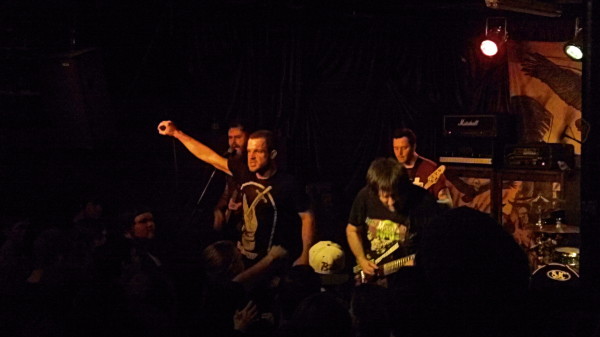 Okay, YouTellConcerts.com readers, I'm going to need you to pull your weight on this one.  Although contributors often give their "take" on the show, we are a blog focused on fan reviews.  I think the last hardcore show I went to was Converge @ Exit/In, so yeah…I'm a little rusty when it comes to the genre. Please comment with your thoughts on Shai Hulud and their live show.
Shai Hulud played The End on MLK Day weekend with This Or The Apocalypse, Sworn In, and Sirens & Sailors.  The bill brought out a big crowd.  From my experience, The End rarely gets a turn-out like this.  It was a respectful class of youths who wanted to mosh out some aggression, which I'm sure wasn't due to the disgusting display by the Patriots that happened just moments before.  I had just enough time to enjoy a Sam Adams, take everything in, and accidentally witness Shai Hulud's singer, Justin Kraus, bust out some quick vocal warm-ups in my peripheral vision.  It never occurred to me that "screamers" would need to warm-up, but (DUH!) of course they do.  It must take intense breath support and annunciation skills to sing like that every night.
Shai Hulud took the stage to what I thought was the Paramount movie theme, but I could be pulling that out of my "you-know-whatski." Either way, it was an attention-grabber.
I liked what I heard from Shai Hulud.  Like I said, I've been out of the hardcore game for a long time, but Shai Hulud reminded me of what I remember from the '90s.  The guitar was more ornate, leaning toward Metal; but it was lying in the undertones;so, it wasn't overbearing.  I'll be honest, Metal music kind of scares me, so I was relieved.   Shai Hulud's mix was sweet and had me in a comfortable place.  I didn't go to bed thinking that I might have made a deal with the devil subconsciously during their set.  Also, they timed the set perfectly, and took time to address the audience!  I'm forever saying this, but bands need to introduce themselves, preferably more than once.  It seems like a no-brainer, but so many times I love a band or artist and never catch their name. Shai Hulud made it clear who they were and what they are about…hard music, but positive music.  That made me happy.
Interview with Shai Hulud
I was lucky enough to chat with Matt Fox (guitar) and Justin Kraus (vocals) before the show.  Check out the video above, and again, comment with your thoughts on Shai Hulud; because when you tell concerts – it's cooler!
For tour dates and info on Shai Hulud, visit www.hulud.com!