Interview w/ Octane Mob
Last week, I had the chance to talk to Hollywood's own Octane Mob before their show at the Roxy on July 9th, 2013 before they opened up for White Wizzard. Find out about the band, their influences, and much more in this exclusive interview with Octane Mob!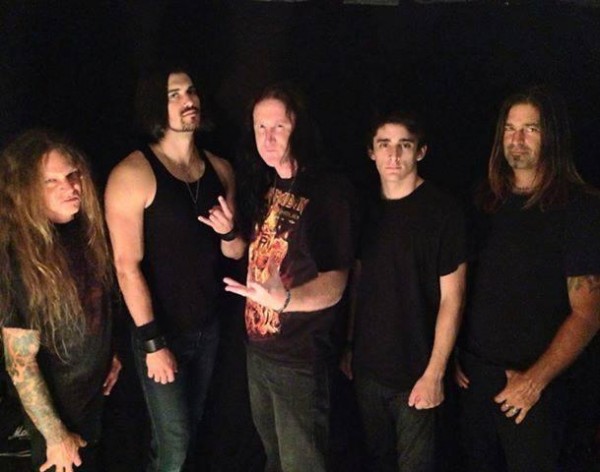 Alex
: Can you tell me about the band and where the name
Octane Mob
came from?
Eddie: Sure, yeah. It's really hard to choose a band name, obviously. So, we kind of put all our ideas together; different words and things. Then we scratched ones off that sucked and put two things together. We're really into motocross and Harley's, and we like motorcycles and things like that, so we put it together. When it sounded great, we stuck with it.
Alex
: How do you write your songs?
Brett: We usually come up with a riff, or Steve or I will, and we'll just go off of that. We'll come up with some lyrics to it and that's how we usually end up writing a song.
Alex: Is it written from personal experience?
Brett: Yeah, it's usually from personal experiences or just how we're feeling, you know?
Alex: What bands have influenced the sound of the band?
Steve: : Wow, a lot! We tend to draw from the old school like Testament, Megadeth, Ozzy, and also some of the newer stuff like Avenged Sevenfold, Trivium, and As I lay Dying. I know each one of us brings in different influences, Alex [Nunez] is kinda on the extreme side of death metal.
Alex Nunez: Like Nile or Decapitated, you know, more extreme bands.
Alex: What do you guys think of the current state of metal music? How do you plan to take it to a different direction?
Eddie: Basically, by playing the right shows and keeping the fan base all metal, you know, like not doing shows with lite rock bands, mixed with the metal.
Alex: No ballads?
Eddie: Yeah, we like to do a ballad at the end of each night. I think you'll enjoy it tonight.
Brett: A little ballad.
Eddie: I think the scene is definitely growing. It seems like Europe is really going off over there and I think the metalheads over here are trying to get that same vibe. Hopefully we'll get some of those festivals over here at some point. In the meantime, we got great venues like The Roxy to play such as tonight, and we're looking forward to that.
Alex: Do you guys think it's important to keep thrash metal alive? I feel that thrash vibe when I listen to the band.
Eddie: Absolutely! It shows a lot of emotion. The stuff we're writing and thrash comes from a lot of anger issues, I suppose, and the music they're writing now is amazing.
Alex: What are some of your favorite thrash bands growing up?
Eddie: Oh, geeze, go Brett!
Brett: It all started with Metallica, of course. Also Savatage, Metal Church…you know, all those old-school hardcore metal bands!
Eddie: Slayer! Heathen!
Brett: Yeah, love Heathen too.
Alex: Speaking of Slayer, what do you guys think of what's going on with their whole situation, right now, where basically it's just Kerry King and Tom as the original members.
Steve: : They're still keeping it together…
Brett: Yea, they're still keeping it together and still going with what they got. Sometimes, it's hard to keep a unit together.
Alex: With so many problems with the bands, do you guys think they should keep it together?
Everyone: yeah!
Steve: : Well, look at Metallica in the early 2000′s, when Jason [Newsted] left, it was almost done. James [Hetfield] went to rehab…and I mean, think about Megadeth, where Dave [Mustaine] fell asleep on his arm, and he couldn't move his fingers for like, I don't know how long. Bands go through stuff like that, but as long as you got Tom and Kerry, whoever else they find, they'll make it work somehow.
Alex: Is this the biggest show the band has played?
Eddie: No, I wouldn't say that. It's a good size show for us, but other than that, it should be a packed house tonight. I don't know what the capacity is for tonight, but it should be a sold out show.
Alex: What do you guys plan to accomplish tonight by playing this show?
Eddie: Just fucking slam it on stage, tonight. We got Mike [Moore] as our new guitar player, you know, so we're releasing the Kraken, tonight. I'm not playing guitar anymore so we got two of the most shredding guitar players in Southern California, and we're stoked.
Alex: So, Mike, you just recently joined?
Mike: Yeah, like what? Two or three weeks ago? I've been working hard for this show!
Alex: So, how do you feel about tonight's show?
Mike: Awesome, can't wait!
Alex: Yeah, it's gonna be fun.
Mike: Definitely!
Alex: Do you guys plan on shooting a music video anytime soon?
Eddie: Funny you should ask, It's slanted for the next month. It's gonna be our first professional video. It's going to be a 3-4 day shoot with great videographer up in the Glendale area and we're really looking forward to it. They're actually making a movie right now that's going to festivals and things like that, and they're hooking us up with an amazing HD camera. One of the first scenes we shoot is going to be on a sound stage from a horror movie they just filmed out on a dungeon area, so we're going to get some live footage on there. We're really excite We got a story line planned out.
Alex: You do you guys have a song planned out for the music video?
Steve: : Yeah, Bed of Knives.
Brett: And that is on the setlist, tonight.
Eddie: It just released on iTunes last week, as well.
Alex: I've read that you guys have some sponsorships. How has the sponsorships helped the band?
Eddie: I think earlier in the band [history] it helped us out a lot. We go through some and some of them drop off, but they've helped for promotion and support. Spider Energy, for example, has given us drinks and stuff like that. There's clothing companies we've dealt with some the gear manufactures and got some key endorsements and some discounts on gear. Other than that, all of us have professional gear and we're stoked on that. We're really not, I don't want to say, "dependent", on our sponsorships, but we certainly do appreciate the help, you know what I mean? They help promote us and give us clothes and stuff like that.
Alex: What's next for the band, besides the music video?
Eddie: The studio. We got drum tracks recorded and we're going to be putting out our second release; I want to say in the fall. It's going to be an approximate 6-10 songer, depending on the budget. We're doing singles and we're going to put them together then put it on a record. We're releasing one song at a time… just to get stuff out this year, then we're going to combine all our stuff together into a record.
Alex: Is all the music you guys have all online, or can you buy it tonight at the show?
Eddie: Our first record is sold out, so, you can go on iTunes and get our first record. As well as all of our three singles that were just released in the last six months.
Steve: : Actually, if you pick up Rock N Roll Industries magazine, there's a section called "the jukebox," where you can pull out your phone and if you have the tag app, you scan the code. So, if you pick up the magazine, you can stream our song "Bed of Knives" on your phone.
Alex: Anything else you guys would like to share before we leave?
Eddie: Thanks for interviewing us!
Brett: Keep it real and keep it metal!