Is it time for Justice ?
TOM MORELLO'S IS OUT RAISING MONEY TO HELP THE WORLD AGAIN ON THE 2009 "JUSTICE TOUR" THESE SHOWS WILL FEATURE SPECIAL GUESTS SLASH, SYSTEM OF A DOWN™S SERJ TANKIAN, SLIPKNOT™S COREY TAYLOR, STEVE EARLE, SOUNDGARDEN™S KIM THAYIL AND BEN SHEPHERD, MUDHONEY™S MARK ARM, THE COUP™S BOOTS RILEY, THE MC5™S WAYNE KRAMER, SHOOTER JENNINGS AND MORE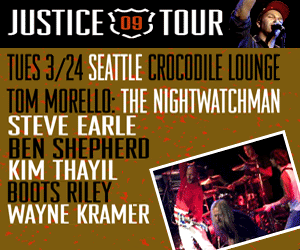 We have had a few chances to catch Tom Morello as the Night Watchman and have all ways been more then impressed. This is a vid we made after a Night Watchman show at the Troubadour in 2008
I also had the chance to talk with Tom after one of his shows and found out a little more about the Justice Tour and the Axis Of Justice .
If you live in Seattle,San Francisco, or Los Angeles you should try and catch one of these shows. Tickets are only 15$ and benefit the Axis of Justice http://axisofjustice.org/
Justice tour dates as found at www.myspace.com/thenightwatchman