Jack's Mannequin @ Cannery Ballroom – Nashville, TN 10-18-11

Review – Jack's Mannequin @ Cannery Ballroom Nashville, TN
Jack's Mannequin…the name has been sprouting up here and there since their latest release, "People and Things," so when I saw that they were playing the Cannery Ballroom, I decided to check them out. I listened to some tunes online, grazed the Wikipedia page, and asked around.
My husband remembered singer Andrew McMahon's former band, "Something Corporate," as the band played "every three songs" on the Hollister playlist when he worked there. Another friend recalled seeing Jack's Mannequin at SXSW "yeeeeears ago."
Hearing about McMahon's friendships and collaborations with Tommy Lee, Jaren from American Bang, Green Day's producer Rob Cavallo, and bass player Chris Chaney (Jane's Addiction, Alanis Morrisette, Slash) in a Spotify artist interview intrigued me.  I wouldn't associate what I heard from Jack's Mannequin with those names at all, as it's a totally different style of music.
When I got to the show, I realized what impressed these people.  McMahon can write the f#@k out of songs and the art of piano probably comes more natural to him than walking.  Nearly every Jack's Mannequin song could easily soundtrack any pivotal moment in a romance flick or even a melodramatic health insurance commercial.
The room was full of kids in their early-twenties singing each lyric with immense feeling and allegiance, turning the Cannery into a piano bar of sorts. I never really jumped on the "Emo" train, but I liked what Jack's Mannequin brought; a hybrid of "Emo" and Gavin Degraw-ish Pop Piano Rock.
Video Credit: YouTube User – joekappelmann
McMahon plays with timings and sauces-up simplicity with driving layers. There wasn't a yawn in the house with McMahon in the spotlight, banging away on those keys without the slightest hiccup.
His piano was the focal piece of the stage; a worn and clearly loved instrument decorated with skeleton string lights. I can't imagine the effort it must take to transport that thing from place to place. However, the piano is the most important part of Jack's Mannequin's music and sounds so rich live. I guess not taking it along would be like hiring a new guitarist at every tour stop and never getting the same result.
Since the show, I've been making my way through Jack's Mannequin's albums, reading more interviews, and finding out the stories behind certain songs. "Hey, Hey, Hey (We're All Gonna Die)" is a favorite of mine off "People and Things." It's a song he started when he was sick with cancer and was nervous to finish. Once recovered, he felt he could put it out there. It's a little curdling, but also inspirational.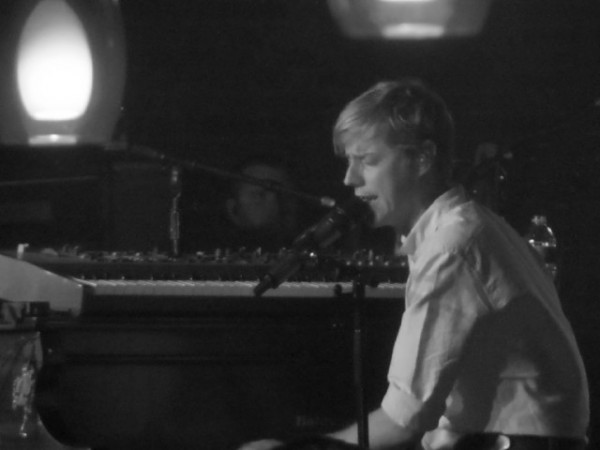 In addition to writing his own material, McMahon functions like a Nashville songwriter – brainstorming with friends and seeing what sticks. For a songwriter, venturing out and letting others add your work (or adding to theirs) results in a broader inventory of songs, plus, it keeps your face in the circle.
This McMahon guy is smart, and an interesting dude to read about. Of course, we hope Jack's Mannequin gets a big radio hit, but if not, there's an approach and work ethic tied to McMahon that convinces me…he'll be making money for a lifetime on his writing.
I'm glad I took a chance on Jack's Mannequin. If you're a fan of Jack's Mannequin or have been to one of their shows, comment on this post and let us know your thoughts on the band and/or their live performance…because "When You Tell Concerts…It's Cooler."