Review – James Blake @ The Fillmore, San Francisco, CA – 09/21/11
This review of James Blake at The Fillmore comes from Clare Healy. This is Clare's third review for YTC and I have to say every time I read one of her reviews I become more and more impressed. Clare has a wide variety of musical taste and does and excellent job of describing a show. If you were at this concert or have ever seen James Blake live please comment on this post and let us know what you think because "When You Tell Concerts Its Cooler" – Lorn
James Blake @ The Fillmore Concert Review
This past Wednesday evening, James Blake graced the Fillmore of San Francisco to perform one of the most interesting sets I have witnessed all year. Over the past few months, ever since a sincere recommendation from a friend, I have repeatedly listened to James Blake's self titled album and a number of his EPs. I have never been able to get enough of his incomparable voice and simple piano melodies. Even so, I was not sure how he would perform these overwhelmingly melancholic tracks yet ball heavy. This 20-something Brit's performance made me wonder how I ever questioned attending his show.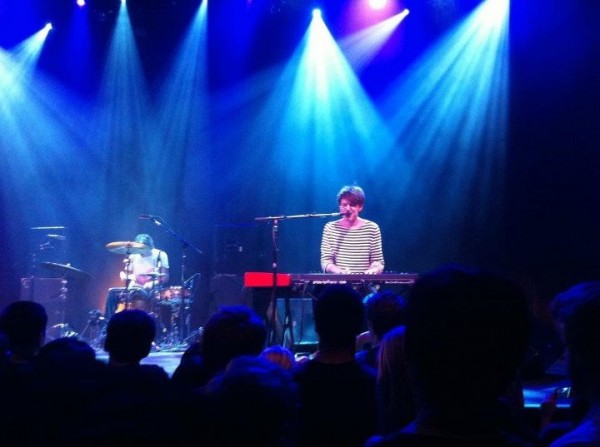 We arrived at the Fillmore of San Francisco about 20 minutes before he was expected to perform and the crowd was getting antsy. There was no one on stage when we arrived, just a crowd waiting patiently for James Blake's appearance. The Fillmore is one of the historic music venues of San Francisco built in the early 1912 as a dance hall. Although the venue is now owned and run by Live Nation, there is still a thick aura of history present. The overhead chandeliers, red carpeted walls, and high rise ceilings create an atmosphere perfect for this performance. Some of the world's biggest and best have performed here, proven by the photos and concert posters lining the walls of the lobby. The show had sold out months prior so it was overflowing with excited James Blake lovers.
Suddenly, the lights dim, everyone goes silent and James Blake quietly walks across the stage to his piano bench to start playing "Unluck," the opening song on his album. I was immediately taken aback. The bass that is apparent in each of Blake's recorded songs was prominently heavier when performed live. His background in blues shined through his post-dubstep productions, keyboard musings and high-pitched voice. My friends that I attended the show with seemed to expect this dramatic but positive transformation in Blake's live performances, however, it was a performance that completely caught me off guard. The stomach churning, mind boggling bass lines were shaking the entire venue – chandeliers and everything.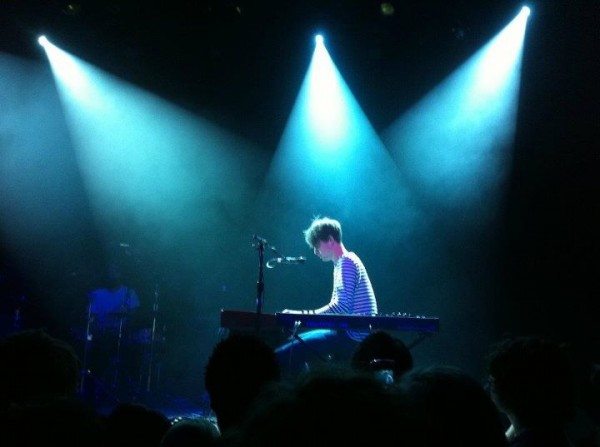 Some highlights were "CMYK," "Limit to Your Love," and "To Care (Like You)," featuring Eskmo. These three songs owned the most epic breakdowns of any of Blake's songs. James Blake's musical talents are not constrained by any rules or boundaries with some of the softest piano riffs falling right into body-shaking dubstep. At the end of the set, Blake performed a number of his upcoming EP releases which parted ways from his traditional bass engulfed songs and offered a more minimal sounds. The need to stand still, in silence and in awe engulfed me throughout the entire show, never letting my eyes wander from the trance of lights and music in front of me. Every single attendee walked away with nothing but a humble smile and a satisfied soul. - Clare Healy
James Blake – "CMYK" (Live at The Fillmore)



James Blake @ The Fillmore 09/21/11 Setlist
Unluck
Give Me My Month
Tep and the Logic
I Never Learnt to Share
Lindisfarne I
Lindisfarne II
To Care (Like You)
CMYK
Limit to Your Love (Feist cover)
Klavierwerke
Enough Thunder
The Wilhelm Scream
Encore:
AWD
Once We All Agree