Event – JJamz w/ The Allah-Lahs @ The Standard – Hollywood, CA – 10/29/11
JJamz w/ The Allah-Lahs @ The Standard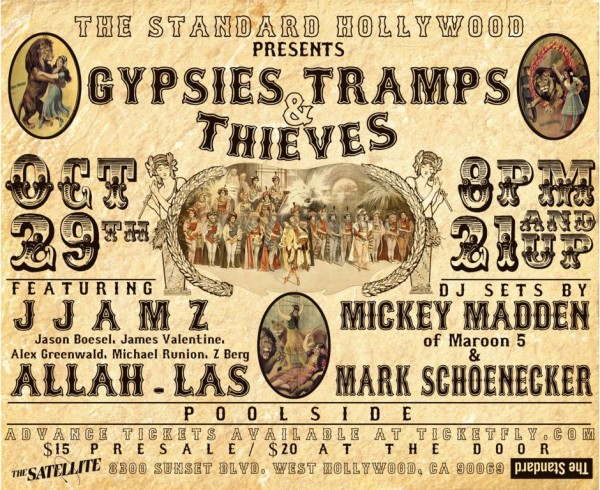 JJamz w/ The Allah-Lahs – 8pm
The Standard
West Hollywood, CA
Tickets: $15
21+
Join The Standard Hollywood and The Satellite for a gypsy camp style Halloween, complete with fortune tellers, schemers, wistful nomads, swindlers, magicians, and a veritable cornucopia of shady characters. The libations will be flowing and music will be provided by the fantastic JJAMZ, The Allah-Las, and DJ's Mickey Madden and Mark Schoenecker.
According to their website, JJAMZ are quite possibly the best band in the world. Comprising of James Valentine (Maroon 5), Jason Boesel (Rilo Kiley/Conor Oberst), Alex Greenwald (Phantom Planet), Michael Runion (solo), and Z Berg (The Like), their sound is poppy, cheerful, and toe-tappingly addictive. LA's best acid-psych band,The Allah-Lahs, are a high-energy folky trip through a musical wonderland.
Start working on your costumes! Pre-sale tickets are available now!