Ep.260 – Kenny Chesney @ Veterans Memorial Arena – Jacksonville, FL
We went out Friday night…Drank too much beer Friday night.

When I heard Kenny Chesney was playing in Jacksonville the same week I was visiting my family in the Daytona Beach area, I knew my sister and I needed to be there. I only recently caved, giving Country music an honest effort, but lil' sis knows every one of his songs by heart.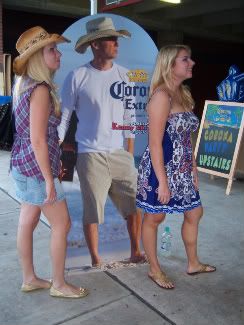 I had seen Kenny perform "Out Last Night" on the Sony boat during the Country Radio Seminar. I loved how personal he was with the audience; just sharing the soon-to-be released song acoustically, and humorously messing up the lyrics, because the song was just that new. He had that same quality on the Sun City Carnival Tour, even in an arena packed with people.
Kenny's show is like a Jimmy Buffet concert. It's a party outside until the show starts. People walking around with Coronas, radio stations giving away prizes and blasting music. I'm sure there was some fun tailgating going on, but we didn't drive to the show- so we didn't get to see it.
We managed to get onto the floor. As awesome as I thought it was at the time, it took away from everything that was going on onstage – the videos/the lighting. I don't know many Chesney songs, so I was a bit lost during the show. Excited, and enjoying myself – but I wish I had settled for a seat, close to the stage, but raised enough where I could sit and take in the whole scene. That's what I had for Brad Paisley, and it was one of my favorite concerts of the year.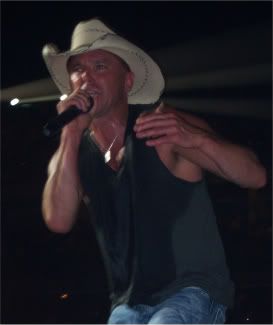 There was a lot of love for Kenny. He played a long time, and even made his entrance by flying in over the crowd on some form of chair.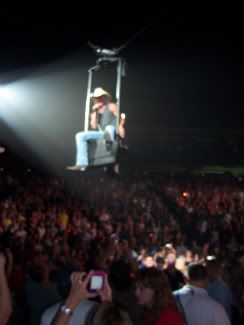 Prior to the show, I had my doubts about Mr. Chesney. I always felt he had great songs, but not a killer voice or kick-ass guitar skills. But, it's not about that – it's the way he delivers his songs, his likeable personality, and his stage presence that makes him an extraordinary talent. And, it's about merging Country music and island paradise.
Much like a Carnival cruise – a little trashy, pretty cheesy, but freeing and fun as f*@k!
Oh, and for the record, Kenny puts on one hell of a gun show. Did you see those muscles? Daaaaaaamn!
Be sure to check out his new online radio station: www.noshoesradio.com – lots of fun songs from Kenny and his iPod. Great "at work" station!
Upcoming Kenny Chesney Dates (as seen on www.myspace.com/kennychesney):
| Date | Venue | City | Tickets |
| --- | --- | --- | --- |
| Aug 15, 2009 | Gillette Stadium | Foxboro, MA | get tickets » |
| Aug 19, 2009 | Scotiabank Place | Ottawa, ON, Canada | get tickets » |
| Aug 20, 2009 | Molson Amphitheatre | W Toronto, ON, Canada | get tickets » |
| Aug 22, 2009 | Ford Field | Detroit, MI | get tickets » |
| Aug 28, 2009 | NY State Fair | Syracuse, NY | get tickets » |
| Aug 29, 2009 | Nissan Pavilion | Bristow, VA | get tickets » |
| Aug 30, 2009 | Time Warner Cable Music Pavilion at Walnut Creek | Raleigh, NC | get tickets » |
| Sep 10, 2009 | Mississippi Coast Coliseum | Biloxi, MS | get tickets » |
| Sep 11, 2009 | Tallahassee Leon County Civic Center | Tallahassee, FL | get tickets » |
| Sep 12, 2009 | North Charleston Coliseum | North Charleston, SC | get tickets » |
| Sep 17, 2009 | US Cellular Coliseum | Bloomington, IL | get tickets » |
| Sep 19, 2009 | Lucas Oil Stadium | Indianapolis, IN | get tickets » |