Event – KMFDM @ Mayan Theater – Los Angeles, CA – 08/08/11
KMFDM @ Mayan Theater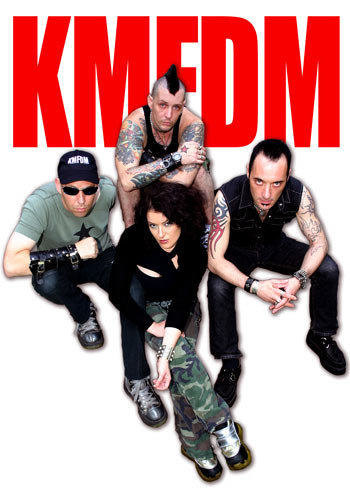 KMFDM – 8pm
Mayan Theater 1038 South Hill Street Los Angeles, CA 90015
Tickets: $31.00
KMFDM Fun Facts:
KMFDM pioneered the crossover between techno/dance and heavy metal with their signature industrial sound. Moving to Chicago in the mid-80′s KMFDM was the pride of WaxTrax! Records during the label's peak. Rapidly evolving year by year through intense experimentation and touring; KMFDM has redefined themselves with each new release.
Venturing on to dabble in side projects and then re-establish KMFDM in Seattle during 1999, Sascha's revolving band of misfits have stood the test of time. KMFDM is currently helmed by the dual vocal attack of the band's founder / leader, Sascha and the siren-voiced Lucia. To quote themselves, "The future belongs to those of us still willing to get our hands dirty".
In addition to their new material KMFDM has re-released their entire back catalog from the band's WaxTrax! Records era as KMFDM Classics via Metropolis Records/KMFDM Records. To accompany the KMFDM Classics, KMFDM has released plus two compilations of their best known songs the Wurst / Shit collection and Extra, a three volume set of double disc collections of all KMFDM tracks not included on the ten KMFDM Classic albums. The classic KMFDM side project Excessive Force has also had their entire catalog re-released.