Review – Lana Del Rey @ El Rey Theatre – Los Angeles, CA – 6/3, 6/4, 6/5
Lana Del Rey's sold out three night residency at El Rey was short but sweet. All three shows sold out instantly and there was mad buzz around Lana coming to town. Katy Perry and Lindsay Lohan even made sure to attend the shows.

Lana Del Rey @ El Rey Video Concert Review
Lana Del Rey @ El Rey Concert Review
As Lana Del Rey took the stage, she was greeted with applause and cheers as is not often seen in Los Angeles. The stage was lined with shrubbery and a screen was set up in the background showing old home movie clips. It seemed as if we were in some sort of enchanted forest.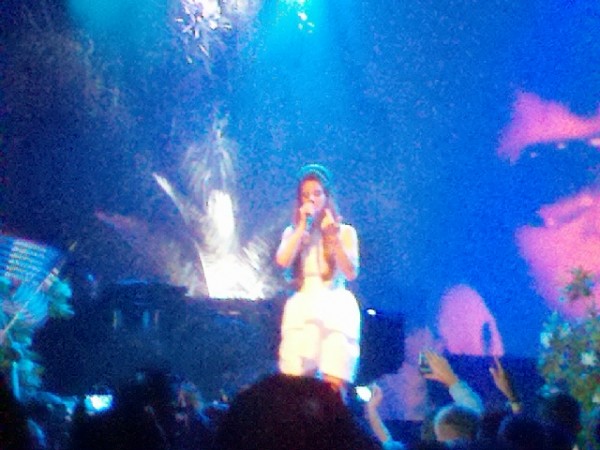 The set only consisted of ten songs which included "Blue Jeans", "Video Games", "National Anthem" and a new track entitled "Body Electric". Each song was infectious in its own way and had a good chunk of the crowd singing along. Lana did not chat with the audience much, nonetheless she seemed to have them eating out of the palm of her hand.
Lana Del Rey – Body Electric (Live at El Rey Theatre)

Towards the end of the show Lana let the audience know that she was just going to be performing one more song. When an audience member yelled out, "Encore", Lana then explained that there would be no encore. The audience member then remarked, "You got to be kidding me", and Lana responded by letting us know that she was not kidding before beginning to perform "National Anthem".
I had heard a lot of negative things about Lana Del Rey and after seeing her live I have to say I am glad that I did not pay attention to them. I found Lana's performance to be captivating and I am now a fan. Although there were technical aspects to the show that weren't perfect, Lana's styling seem to overshadow them. I look forward to seeing Lana Del Rey again but hope that the next go around she decides to play a longer set.
If you were at this concert, or have ever seen Lana Del Rey , make sure to comment on this post and let us know what you think, because this is You Tell Concerts, and "When You Tell Concerts…It's Cooler!" – Poppinoff
Lana Del Rey @ El Rey Setlist
Blue Jeans
Body Electric
Born to Die
Lolita
Summertime Sadness
Without You
Million Dollar Man
Carmen
Video Games
National Anthem