Let's Party! – Le Castle Vania SoCal Mini-Tour
Word to it SoCal! Who's ready to party? Well here is your chance to get down with Le Castle Vania!  He will be  hitting our neck of the wood for a 4 show SoCal Mini-Tour starting this week. He kicks it off this Wednesday at Voyeur in San Diego, then makes his way up to Los Angeles to play CONTROL on Friday night at Avalon, then back down to SD for another night at Voyeur on Saturday and finally over to Sutra in the OC for his fourth and final show.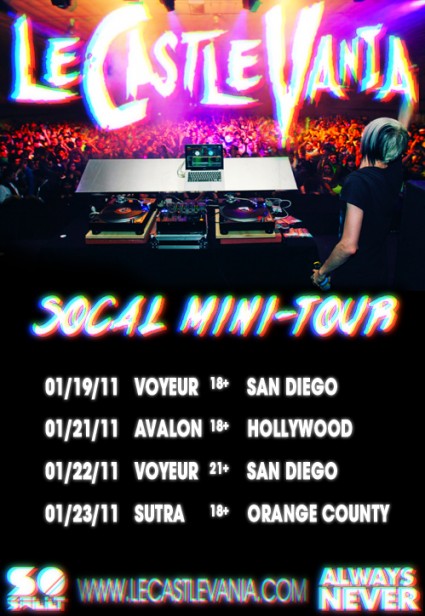 It looks like it will be a fun run for Le Castle Vania, as he plays some of SoCal's hottest dance clubs. Another great thing about this tour is that almost all of the shows are 18+. If you haven't seen Le Castle Vania, he always brings a lot of energy and gets the crowd moving. So, make sure you don't miss the opportunity.
Make sure to buy tickets in advance, as prices will be higher at the door and you don't want to get left out in the cold.
01/19/11 – Le Castle Vania @ Voyeur – San Diego,CA – $15 – 9pm-2am – 18+
01/21/11 – Le Castle Vania @ Avalon – Control – Hollywood,CA – $15 – 9:30pm-5:00am – 18+
01/22/11 – Le Castle Vania @ Voyeur – San Deigeo,CA -Free with RSVP – 9:00pm-2:00am – 21+
01/22/11 – Le Castle Vania @ Sutra – Costa Mesa, CA – 9:00pm – 2:00am-18+
Cee Lo Green – Fuck You (Le Castle Vania Remix)