Ep.152 – Lord T and Eloise @ The Mercy Lounge – Nashville, TN – 01/24/09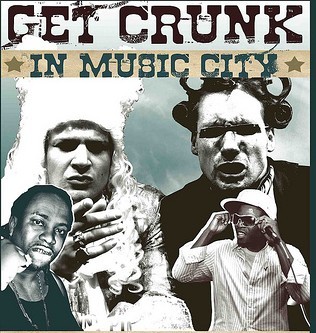 Chrystal catches Lord T and Eloise at the Mercy Lounge in Nashville TN on 01/24/09 and gets fan reviews of the show.
Lord T and Eloise @ The Mercy Lounge
video concert review
Lord T. and Eloise brought a most "sophisticated" party to the Mercy Lounge last night. After much anticipation (try three hours of opening acts), this "aristocrunk" rap team took the stage dressed in powdered wigs, gold body paint, and some serious ruffles. A suit of armor set the scene, as the guys described their decadent lifestyle through bad-ass beats and ridiculous rhymes.
There's no doubt that Lord T. and Eloise are very talented, and their Baroque theme is an intelligent and unique way to set them apart from the overflow of amazing hip hop acts trying to make it today.
As for the crowd and venue…I love the Mercy Lounge. It's a warehouse turned club: two bars, smoking patio, friendly staff and security, pretty good sound, and lots of cabs available to make sure everyone gets home safely. Con: the Women's bathroom is a fluster-cluck.
The audience was so diverse, and I wasn't sure about the choices for the opening acts. This crowd wanted to dance, but didn't seem like the kind of people that went electro-clubbing every weekend. They needed more popular songs in the mix to really get amped up.
I think the audience was bored and drained by the time Lord T and Eloise came on. They tried to give it their all and the energy was high for most of the set, but around 1:00 AM the crowd started shrinking – before Lord T and Eloise were off the stage.
Perhaps they should have switched the opening line-up. The DJ that came on right before Lord T and Eloise was great, but, in my opinion, Two Fresh had a better mix and their stage presence was more electric.
Two Fresh consists of two DJs and a drummer: DJ AM and Travis Barker style. They rocked it, and I think if they get their transitions smoothed out and add a few more mainstream hits to their playlist, they can be a HUGE club act.
As for Lord T and Eloise, although they have legit skills, they are a humorous party rap group. I may love it, but I understand that this style is not for everyone. However, I think a lot of people will find a couple of Lord T and Eloise songs filed under "guilty pleasures" in their iPods in the near future.  Make sure to check out the. Lord T and Eloise/ Myspace Peace Bee-Yatch, *C