Review – Manchester Orchestra – The Troubadour – West Hollywood, CA – 05/21/09
Guest Review and Photos by Ryan Saylor
Thursday, May 21 2009
Manchester Orchestra, the Atlanta, Georgia based band, traveled a long way to make a lot of noise in front of a young and intimate audience at LA's famous Troubadour venue. Recently embarking on a national tour in support of their highly anticipated and well-received sophomore effort, Mean Everything To Nothing, the group faced the difficult task of recreating the raw and often thunderous sound displayed on their record.  Lead singer and guitarist Andy Hull, who's voice ranges from a soft rain-like pitter patter, to a shrill that would send any house intruder back to their getaway vehicle, demonstrated his ability that most singers could only hope to achieve.
However, Hull's vocals could only do so much for a performance that from the start was plagued by poor sound mixing and sloppy playing, leading to a long-winded set list filled with watered-down versions of songs old, new, and covered.  Opening their set with the track Pride off their new album might have been their first mistake.  Not to take away from the song – as it is identifiably one of the best on the record – but the song opens too softly to get any crowd going.  Not until a minute and thirty seconds in did the entire band make its presence known and remind everyone that five people helmed the stage.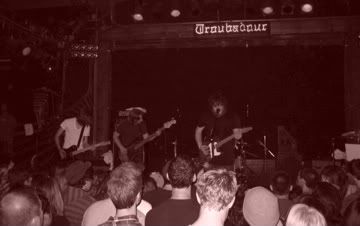 By the fourth song – I've Got Friends, the current single off Mean Everything to Nothing – the band began to show signs of life (and the sound mixer's coffee kicked in). As the crowd began to pay attention to the show, Andy and crew brought the mood back down with the somber, and should-have-been short track 100 Dollars (clocking in at a mere minute and fifty seconds off the new record), turning it into a four minute nightmare, hindered by a delayed drum entrance and off-note slam from bassist Jonathan Corley.
From there the band completely lost interest in entertaining anyone but each other for the rest of the set.  Throwing in songs from their 2005 full-length debut I'm Like a Virgin Losing a Child, a half-assed cover of Paul Simon's Me and Julio Down by the Schoolyard, and Neutral Milk Hotel's Holland, 1945 (mistakenly performed solely by Hull), the set devolved into a bloated mix dedicated to noise pollution.
Closing the show with opening track The Only One, it was evident the crowd was hoping for a high note ending.  Unfortunately the entire band left Hull to close out the set with (again) a longer than necessary version of a song that clocks in under three minutes on the record.  Where the album version consists of depressing lyrics boosted by an uplifting, hopeful feel, the live performance lasted five minutes too long and placed Hull on a proverbial pulpit, turning him from a singer to a preacher.  Towards the end of the song Hull stepped away from the microphone and sang the song to himself while staring blankly into the audience – I don't think I've ever witnessed a singer take a more passive-aggressive approach to telling an audience to go home!
I hate to be a fan of a band and bash their live show, because in all honesty, Manchester Orchestra's music, and especially their latest record, fills me with a positive rage and transforms me back to the much missed 90's grunge era.  I've found myself listening to the new album on repeat as of late, something that has not occurred this year until discovering this record.  The band has come a long way from their first album, but it's going to take a few more trips around the world to fully polish what they mastered inside the studio.  Shake your sound guy. Limit your set.  Act like you give a damn about your audience while on stage. I've never suggested for a band to take themselves seriously, but in last night's case, I might have to make an exception.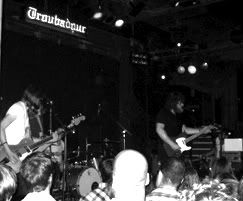 Tour Dates for Manchester Orchestra from their MySpace:
http://www.myspace.com/manchesterorchestra
| | | |
| --- | --- | --- |
| | Voodoo Stage @ House of Blues (Sold Out) | San Diego, California |
| | Club Congress | Tuscon, Arizona |
| | The Clubhouse | Tempe, Arizona |
| | Waterloo Records in-store | Austin, Texas |
| | Emos | Austin, Texas |
| | The Loft | Dallas, Texas |
| | Walter's | Houston, Texas |
| | Spanish Moon | Baton Rouge, Louisiana |
| | Proud Larry's | Oxford, Mississippi |
| | Bottle Tree | Birmingham, Alabama |
| | State Theatre | St. Petersburg, Florida |
| | The Social | Orlando, Florida |
| | The Social | Orlando, Florida |
| | Virginia Highlands Summerfest – FREE SHOW! | Atlanta, Georgia |
| | The Academy | Dublin |
| | Night and Day Cafe | Manchester |
| | Hare & Hounds | Birmingham |
| | ICA | London |
| | Splendour in the Grass | Byron Bay |
| | Hi Fi | Melbourne |
| | Oxford Arts Factory | Sydney |
| | Lollapalooza | Chicago, Illinois |