Motion City Soundtrack Giveaway
Motion City Soundtrack is playing at Rocketown in Nashville on April 12th, and I'll be in attendance gathering our famous video fan reviews. Although I had seen their name on a number of music sites as of late, I didn't give them a reliable listen until I found out they were coming to town.
I suppose I passed over them because they seem to be marketed as a younger-skewed pop rock band like Boys Like Girls, Fall Out Boy, and Plain White T's. Being more 'seasoned' in years than the average fan of these bands, I often decide not to cramp the kids' style and stick to my generation. Then I thought, 'What the hell?' and got my Google on.
Turns out they've been around since 1997, and even have a couple albums produced by Mark Hoppus of Blink 182 in their repertoire.  Okay, now, you're speaking my language!  Since Hoppus has a hand in their projects, I can use something I know and respect, Blink 182, as a jumping off point for comparisons.
I heard Motion City Soundtrack's MySpace playlist, looked up a few songs listed on their Wikipedia page, and they are definitely more flexible stylistically than Blink 182, and as an overall unit, better musicians.  They've done well with mixing older pop punk into the melodic pop rock that's become more prominent in the later 00's. Of course, the only way to see what a band is all about is to see their live show.  I'm anxious to see if they can stand up to Blink in performance.  I'll let you know!
Better yet, you let me know! Check them out on this upcoming tour (click here for dates) and comment with your thoughts on the band and the show you saw, because when you tell concerts…it's cooler!
In the meantime, the good people at Stunt Company sent us some Motion City Soundtrack calendars and stickers to give away.  If you want one, fill this bad boy out, and we'll contact you if you win.
Want More Motion City Soundtrack?  


Motion City Soundtrack – A Life Less Ordinary (Need a Little Help)
Motion City Soundtrack – Pulp Fiction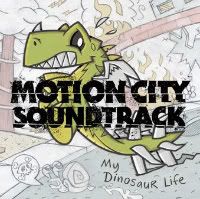 Buy "My Dinosaur Life" Here!