Nashville – Twitter Ticket Giveaway – The White House Band, Evan P. Donohue, and ColorFire
CONTEST ENDED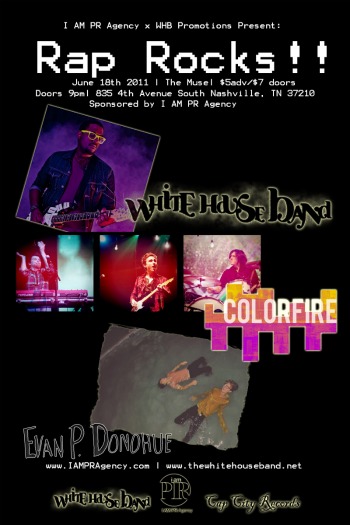 Rap Rocks set up tasty little lineup here, and the good people at I AM PR Agency gave us some tickets to give away to you guys! The show's on June 18th at The Muse and features The White House Band, Evan P. Donohue and ColorFire.  To enter, simply tweet:
"@YouTellConcerts Tix Giveaway: @RapRocks Nashville| June 18th w/ @TheWHB @EvanPDonohue @Colorfiremusic |9PM @MuseNashville – Retweet to Win!"
You'll get a pair of tickets to the show and will have the best time you've ever had…yes, EVER! Be sure to follow @YouTellConcerts for more concert info, fan reviews, contests, artist interviews, etc.
Check out the interview we did with David E Beats prior to SXSW:
The WhiteHouse Band's new EP, The Stimulus Package, is available for free download at http://thewhitehouseband.bandcamp.com/
Everyone in Nashvegas loves themselves some Evan P. Donohue. Here's a recent performance he did at the Nashville Scene office:
I haven't seen ColorFire yet, but I bet they'll bring out the ladies. Looks like they've been endorsed by both Coldplay and radio host Kidd Kraddick, and they reached their 20,000 free download mark of their first EP within the first month! Might be a good idea to catch them at this show before they blow up; #braggingrights.
Evan P. Donohue – California Sunshine