One Night Only – AM Only & Undocumented Management Showcase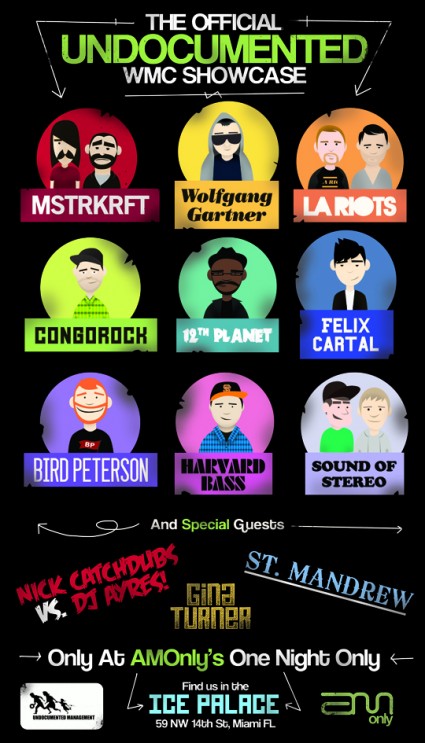 What a massive this party was!  Taking up two ginormous clubs, Karu & Y and The Ice Palace, this event, featuring over 70 artists and DJs,  lasted over 12 hours. Unfortunately, due to my frenetic WMC  coverage schedule, I was not able to make it to this party until shortly after 1am. I missed several of the acts that I really wanted to see,  like Kill the Noize, Craze and Kid Lightning.
When I walked in to the building,  I was a little confused with the event set up. I spent a lot of time in a very small room close to the entrance where I had the chance to catch some killer sets by AC Slater/Star Eyes and The Japanese Popstars.
After awhile, I heard everyone buzzing about the MSTRKRFT set starting up. I ran around the club looking at set times and for any indication that MSTRKRFT was going to play. Finally, I saw a crowd of people walking out a door that was in the back of what I thought was The Ice Palace.
I decided to follow them and was led to a completely different club. I knew that their were two clubs involved in this event, but had no clue that they were each so large.   I made my way through what I would consider to be a bit of a maze, and finally found MSTRKRFT!

I am glad I didn't give up the search because their set  (as usual) was banging!  The amount of work they do during their performance is incredible (lots of knob twisting and jumping around!).  Busy P even dropped by to jam out to the guys' set.
Other artists at this showcase that people were raving about all weekend included:
Sound of Stereo – Zipper EP Teaser
12th Planet VS. Rass Kass – West Coast Dub
Another cool thing about this party was that some of the artists were performing at the Ultra Music Festival as well (Dj Dan, The Japanese Popstars, Felix Cartal, Donald Glaude); but, those who attended this party got to enjoy them in a more intimate club atmosphere.
Special thanks to Jamal at Undocumented Management  and Teenage Riot Records for setting us up to attend this show and to Betty and Elizabeth at Plexi PR