Poppinoff's Picks – Top 10 Concerts of 2011
Jan 4th, 2012 | By Poppinoff
Category: Adele, Cure, The, Florence and The Machine, Foo Fighters, Girl Talk, Los Angeles, Matisyahu, Prince, Rammstein
Poppinoff's Picks – Top 10 Concerts of 2011
Twenty-eleven was filled with surprises, from Prince playing 21 shows in the City of Angels to the Foo Fighters playing a slew of secret club gigs. Coachella sold out faster then ever before and the Electric Daisy Carnival moved to Las Vegas.  Jay- Z and Kanye West joined forces for a co-headlining tour and Deadmau5 sold out five nights in a row at the Palladium; 2011 def rocked some socks off.  I attended 65 shows this year, but only managed to make 45 videos and write seven reviews.
The year also featured a lot of changes for You Tell Concerts, with some old-school YTC contributors leaving the site to pursue other ventures and lots of go-getters jumping in to cover shows and rock out.
Everyone's work is greatly appreciated and really helped the site grow. Special thanks to Chrystal Heidemann, Mike Bandow, Jorge Meza, Clare Healy, James Donnelly, Bryan Duckworth and Mellisa Monte for their contributions and making YTC great in 2011.
With all of that said, I am really excited for 2012 and to see what the future has in store for a crazy little idea that is You Tell Concerts; Rock 'n' roll! – poppinoff
Total Concerts Reviewed: 52
#10  Ep.473 – Matisyahu @ Club Nokia – Los Angeles, CA – 08/03/11
Before seeing Matisyahu live,  I honestly couldn't stand the guy.  I though his music was all right, but found there to be way too much hype around the guy. Well, I was completely wrong. Matisyahu is an amazing musician and performer and really knew how to work a room. I am really glad that Matisyahu made his way to my top ten concerts list and look forward to seeing him again.
#9  Ep.462 – The Flaming Lips @ Hollywood Forever Cemetery – Hollywood, CA – 06/14/11
The Flaming Lips took over the Hollywood Forever Cemetery for two nights in June. The Flaming Lips performed their debut album, "The Soft Bulletin," in its entirety on the first night and Pink Floyd's "Dark Side Of The Moon" at the other. Both shows were an absolute trip! This was the first concert that I had attended at the Hollywood Forever Cemetery, I and have to say I couldn't have thought of a better band to see there than The Flaming Lips. The band put on a great show and kept the crowd fully-engaged throughout. The highlight of this show for me was getting to stand onstage while The Flaming Lips played "Do You Realize."  Looking out into a cemetery as lead singer, Wayne Coyne, sang the lyrics "Do you realize, do you realize that everyone you know someday will die, and instead of saying all of your goodbyes – let them know you realize that life goes fast, and it's hard to make the good things last," def sent shivers down my spine.
#8  Ep.442 – Girl Talk @ Palladium – Hollywood, CA – 03/21/11
I have seen Girl Talk five times, and this is the second time he managed to make it on to my list of top ten concerts. Girl Talk always delivers and really got the Palladium a-jumping.
#7  Ep.460 – Florence and the Machine @ The Greek Theater – Los Angeles, CA – 06/13/11
Florence and the Machine had a lot of hype around them in 2011 – all justly deserved. The group fronted by Florence Welch delivered a stunning and graceful performance. Listening to Florence was like listening to a beautiful songbird.
#6  Ep.457 – Rammstein @ The Forum – Los Angeles, CA – 5/20/2011
This show was a nice fresh punch to the face. Wow, did Rammstein rock the Forum. The music was as heavy as it could get, and the stage theatrics were over-the-top. My exact thought after this show was that Rammstein was the comparable Britney Spears of German Industrial Metal.
#5  Ep.439 – Foo Fighters @ Spaceland – Silverlake, CA – 02/08/11

If I had to make a list of the greatest rock bands on earth, the Foo Fighters would def make it to the top of the list. Over the course of February, Foo Fighters played The Dragon Fly, Spaceland, The Roxy,  and The Troubadour. This show was officially the last show ever held at Spaceland before it became "The Satellite." Dave Grohl was walking around the bar before the set and even taking pics with people. Gwen Stefani and Gaven Rossdale were in attendance, and the band played a 28 song set. I almost picked the Foo Fighters performance at the Forum instead of this show, but after careful consideration this show def slayed.
#4  Ep.510 – Watch The Throne: Jay-Z & Kanye West @ Staples Center – Los Angeles, CA – 12/12/11
The Watch The Throne tour was a heavy-hitting bill. Featuring two of Hip -Hop's biggest players, Jay-Z and Kanye West. This show was an absolute spectacle and went back and forth between the two rap juggernauts. The two complemented each other perfectly! This show also featured what I would have to say was one of the craziest concert moments I have ever had. Jay-Z and Kanye West played their hit single, "Ni#*as In Paris," nine times in a row. Staples Center was going wild, to say the least.
#3 Ep.503 – The Cure @ Pantages Theatre – Hollywood, CA – 11/21/11
I honestly don't see how Guns N' Roses made it into The Rock and Roll Hall of Fame and The Cure didn't. This show was comprised of 48 songs and featured The Cure performing their first three albums, "Three Imaginary Boys," "Seventeen Seconds," "Faith," and a collection of their greatest hits. Robert Smith's guitar-playing was top-notch. I have to admit,  I went through a Cure phase after this show.
#2  Review – Prince @ The House of Blues – West Hollywood – 5/25/11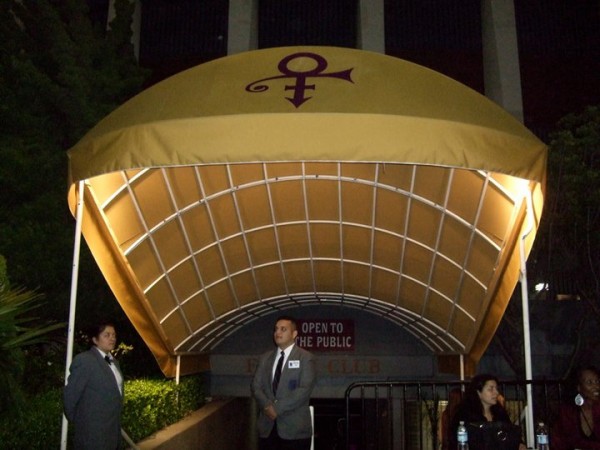 I caught seven of Prince's 21 Los Angeles performances. Four shows at the Forum, two at the House of Blues – Sunset Strip, and one at the Troubadour. All of the shows were absolutely, and the guitar is Prince's bitch. Prince blew my mind night after night. There was just something about the House of Blues' main stage show that was different then all of the others. I am not exactly sure what it was about it, but when it came down to it, this performance took the cake in my book.
#1  Ep.474 – Adele @ The Palladium – Hollywood, CA – 08/17/11
Adele seemed to be the rage this year.  Her song, "Rolling in the Deep," got remixed by everyone even Lil Wayne and Deadmau5. This show was originally scheduled for June 9th, but Adele had taken ill and ended up needing to get throat surgery. The show was more than SOLD-OUT and one of the hottest tickets in 2011. It was a miracle that I managed to find a ticket for this show. Adele absolutely blew me away and secured her spot at the top of my 2011 list.
Well, there you have it – my top 10 concerts of 2011. Make sure to comment on this post, and let us know what shows reached the top of your 2011 list – because "When You Tell Concerts… It's Cooler!" – poppinoff
Check out Chrystals Top 10 Concerts list.
And my Top 10 Concerts list from years past.