Recap – Coachella 2011 – Day 1 – Indio, CA – 04/15/11
Well, it's already been a week since Coachella, and I am still in full-blown recovery mode; doing nothing but sleeping, eating, and keeping the party going.
So far this week, I have managed to hit the Dim Mak Loft to see JFK of MSTRKRFT/ DFA 1979 and a tag team DJ set between 12th planet and Nero; plus DJ Quik's "Book Of David" record release party at the Key Club, and Prince at the Forum in Inglewood. After all that partying, I decided it was time to finally look back on Coachella 2011.
For those of you that missed the memo, Coachella is all about getting people to say "HAPPY COACHELLA" for the YTC crew. Every year, we run around the Polo Field like lunatics, screaming at the top of our lungs,  "HAPPY COACHELLA! PASS IT ON," and hand out the highly sought after HAPPY COACHELLA stickers.
This year was by far our most successful year yet. We somehow managed to pass out over 4,500 stickers, and had a blast doing it. I don't think we could have been more happy with the results of this year's HAPPY COACHELLA campaign.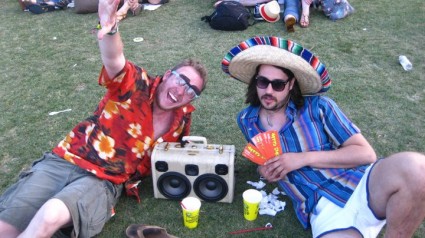 Another cool thing the YTC crew had going on this year, was the addition of the Boom Case. A vintage suitcase-style boombox that allowed us to constantly have the party going on all around us.
Now that the fine details of this post are out of the way, it's time to get to the music of Coachella. We arrived around 2:00pm on Friday,  just in time to catch 12th Planet destroy the Sahara tent. He def threw down some fine dubby beats, and was the perfect way to start Coachella 2011 off for our crew. He was even kind enough to yell out  "HAPPY COACHELLA" a few times here and there.
Next, we caught Skrillex. There was a lot of buzz and hype around Skrillex this year and for good reason. He had several #1 Beatport tracks, and has been selling out venues across the country. However, this set was subpar. I really dig his music, but the transitions between tracks was a bit sloppy at this show. The highlight of his set was when he was joined by Johnathan Davis and Munky of KoЯn to perform a new track they had been working on. It sure was neat to see Johnathan Davis sing over top of a heavy Dub Step track.

I, then, headed over to the Coachella Stage to catch Cee Lo Green. I have been a fan of Cee Lo for a long time, so I was very excited to catch his set. Unfortunately, Cee Lo decided to be a Diva and come on 20 minutes before his allotted set time was over. He blamed his late arrival on a flight delay and Goldenvoice giving him too early of a set time. He only managed to perform 3 songs before his mic was cut. The quality of his set was good, but it was a disappointment that he decided to come on so late.
The next full set I was able to catch was from psychedelic rockers, Tame Impala, who put on one hell of a show. They hit the stage around 5:50, so at that point in the day I was more than ready to chill out and listen to some groovy tunes. These guys won the crowd over and got a lot of new fans out of this performance. I highly suggest checking them out if you are a fan of psychedelic tune-age.
I spent the next few hours wandering around the Polo Field catching random acts that I hadn't previously planned on seeing. I caught a few tracks from Afrojack (who had the Sahara tent bouncing off the ground, to say the least), Sleigh Bells (who I wish I would have been able to see more of, because they were just so damn good), and Brandon Flowers (who I swore I wouldn't see due to my strong dislike for The Killers). He somehow ended up winning me over in the end and put on a pretty good solo show.
After checking out bits and pieces of a few sets, I headed back to the Coachella stage to see one of my favorite live bands The Black Keys. They are always stellar and throw down some fantastic rhythm and blues rock and roll. I am pretty sure no one left their set disappointed.
Magnetic Man was next on my list, who I had heard a lot about and who would end up becoming one of my highlights of Coachella. Magnetic Man was a four-piece crew that featured three DJ's (Skream, Benga and Artwork) and an MC (SGT Pokes). Not only did these guys drop some heavy dubby beats, they managed to constantly switch back and forth on their beats flawlessly. The highlight of their set is when they performed "I Need Air" and they got the entire Sahara tent to sing along on a beat drop.
After Magnetic Man, I headed over to the Coachella stage to catch the end of Kings Of Leon (who put on their standard good show) and chill out for a bit before the Chemical Brothers came on.
The Chemical Brothers were the perfect act to close out the main stage and day 1 of Coachella. They brought so much energy and really got everyone in the crowd into a trance. The visual displays were also out of this world and something you just have to experience to be able to understand.
All in all, Coachella Day one was fantastic, and we were all ready for another two amazing days in the desert listing to some of the finest music the world has to offer.
Lots more vids and stories to come.