Recap – Etienne De Crecy @ Drai's – Hollywood,CA – 11/21/10
Those of you who haven't hit Dim Mak's Cannonball Sunday at Drai's are really missing out. This event brings in a slew of special guests that have stretched from Z Trip, Felix Da Housecat, and Steve Aoki to the event's stellar resident DJs -  (thee) Mike B, Fashen and DJ Metric.  This night was no different!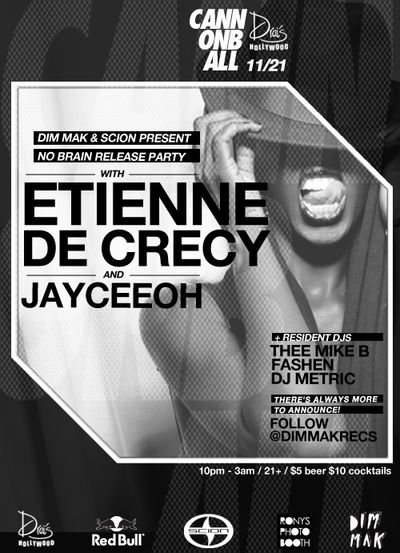 Etienne De Crecy was in the hizzy and everyone was just kicking back. The crowd is a mix of your regular clubbers and the hip and trendy rockstars the Dim Mak crew brings out.
In addition to an awesome set from Etienne De Crecy, another thing that made this night so special was the fact that we were rolling with some YTC contest winners (B Ray and Zach). These guys really knew how to party and def tore up the dance floor at Drai's.
I am, unfortunately, not able to hit Cannonball Sundays too often due to work in the early Monday mornings. I do, however, have to say that it's my go to spot when I am looking get down on a Sunday night. -lorn
EtienneDeCrecy LiveInBogota by Etienne de Crécy