Recap – Foo Fighters @ The Roxy – West Hollywood,CA – 02/07/11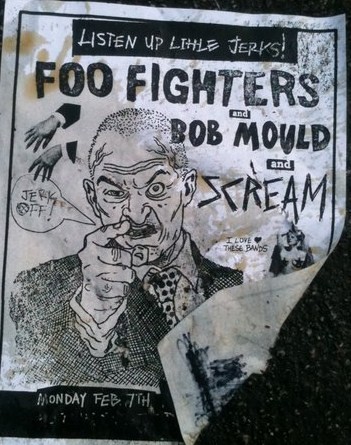 So once again, the Foo Fighters played a secret show in support of their still unnamed 7th studio album.  This time at the Roxy.  I had heard rumors of this show taking place as I waited to see the Foo's at Dragonfly last Friday night, but did not receive confirmation via the Foo Fighters Facebook until 5:00pm on the day of the show.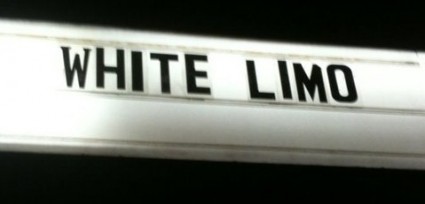 As soon as I got off work, I raced over to the Roxy to watch as they began to turn people away.  I spoke with a few of the security guards and Roxy employees and decided that I should grab some food and come back in a few hours.  I got back to the Roxy around 8:45pm and started the waiting game.  People continued to line up for about another hour or so, but as time past eventually started dropping like flies until their was only 20 people or so in line. I decided to stick it out.
The Foo Fighters went on around 10:30pm and opened their set by performing their new album in its entirety.  I was stuck outside, but the new tracks still sounded great.  After they busted out their new album, they performed some of my favorite songs such as "All My Life,"  "Times Like These," " My Hero," " I'll Stick Around," "Everlong," and "Monkey Wrench".
Even though I wasn't actually inside the venue, I still had a blast listening to the Foo's rock out.  Damn they sounded good. The one thing that disappointed and surprised me about both this show and the show at Dragonfly last Friday, is that at least 20-30 VIP'S and D list celebs left after the first 5 songs, and they still wouldn't let the folks waiting in line in.  For some reason, I had always expected Dave Grohl to be the type of guy who would reward the final few fans that managed to wait an hour and a half into his set into his show.  He just seems like he would rock like that, especially when all of his VIP's jet out before he even gets that far.
Oh well, I am probably just a sore loser, and nonetheless, still had a blast! I love listening to the Foos even if it is in a parking lot. Def worth my time and I would do it again, but  I do hope I actually get to see them some time soon!