Recap – Pac Div w/ Young Dro @ Key Club – West Hollywood,CA – 04/07/11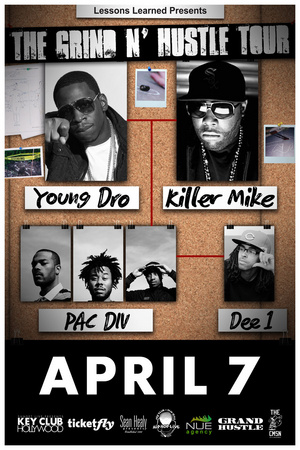 Young Dro was the top-billed act for this show, but Pac Div took the house. Young Dro is a fantastic rapper, but his stage show is missing a lot of aspects that a good Hip-Hop show needs to have. The thing his set was missing the most was hype men. Most of the time, when you catch a Hip-Hop show, the hooks are performed by hype men which give the songs a much more realistic feel. Young Dro simply rolled his pre-recorded hooks, then dropped the beat to do his verses. He killed his verses, but the crowd never really got into his set. Dro def has tons of talent, but needs to start rolling out with some doods to back him up.
When Pac Div took the stage, they took the stage with force! I had never really listened to these guys before, but from the moment they got the mic in their hands, it was apparent they knew how to rock it. The crowd went from standing around with their hands in their pockets to throwing them high up in the air and waving them like they just didn't care.
All three members of Pac Div complemented each other perfectly. Although it looks as though these guys are just getting into the game, they have obviously been putting a lot of effort into their live performance and it shows. Their flows and beats are both fresh. It looks as though these guys are on an upwards track. The set was full of energy and an all-around let's have a good time attitude. I would recommend getting into these guys and checking them out if you can.
PAC DIV performs "Take Me High" in Los Angeles from CRÜZ on Vimeo.
Young Dro vs Queens Of The Stone AGE – Little Sister / Shoulder Lean  A -TRAK RMX
Make sure to check out more photos from the show here .
As per usual, big ups to Brad Hoss and all the other fine folks at the Key Club for setting us up to cover this one.