Recap – The Sounds @ Avalon – Hollywood,CA – 03/29/11
This show was a surprise, as it totally slipped my radar. I guess the show went on sale in February and sold out instantly, so everyone just instantly stopped talking about it. The show was even listed on Pollstar -  the site I use to find out about almost all of the concerts I attend. Thankfully, The Scenestar tweeted about the show and I didn't miss it.
I had been to several dance parties at Avalon in Hollywood before, but never a concert.  For some reason, I expected to walk in not hearing dance music, but some sort of Rock and Roll.  Well, I was dead wrong. The place was still being pumped full of Dubstep.  It wasn't a problem in the slightest, just not what I was expecting at a rock concert.  I must say I def enjoyed the DJ. (Let me know if you know who it was).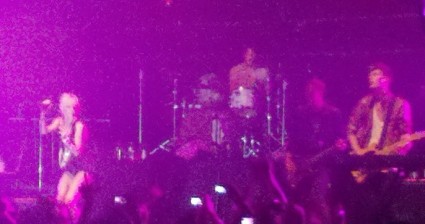 When The Sounds took the stage, the place lit up.  This was my 5th time seeing The Sounds, and they always manage to exceed my expectations. This show was in support of their new album, " Something To Die For."  They busted out a few new tunes from the album, and I dug the new tunage live. They also performed several of my favorites such as "Tony The Beat," and " Living in America."  I dug the set, but I wish they would have performed "Crossing The Rubicon" and "Night After Night" – two of my favorites.
The energy this band puts out is phenomenal, especially the energy lead singer, Maja Ivarsson, puts out. Every time I have seen her, she spends the entire show running back and forth across the stage and doing crazy air kicks.
The coolest part about this show was at the very end when some girl jumped on stage and started dancing with Maja. Eventually, the entire stage began to fill with people rocking out and The Sounds just went on like it was just another day in the life of a rock star.
The one thing that bothered me was the sound. The bass and the drummers were much louder then Maja's mic and made it very difficult to hear her throughout the show. Regardless, I still had a lot of fun and can't wait to see The Sounds again.
The Sounds – Something To Die For
The Sounds – Beatbox (Hey Champ Remix)