Recap – The Steves Birthday Bash @ Cinespace – Hollywood,CA – 11/23/10
DIMMAK  Tuesday's really outdid themselves with this one!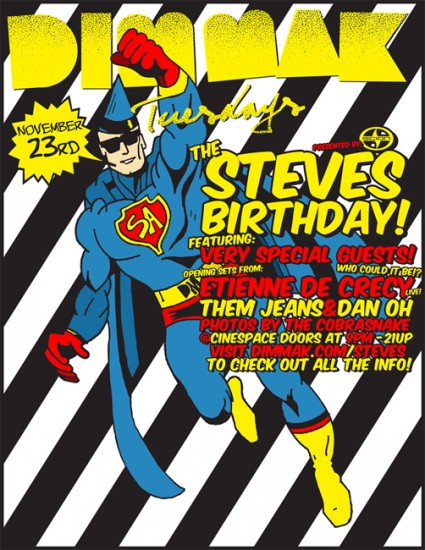 I honestly don't know where to begin. This night was simply epic, and it was all in celebration of the births of Steve Aoki and Steve Angello. Cinespace was done up – with a kick-ass stage set, beyond ridiculous DJ and artist in the house, and only a limited amount of tix released…this party was the real deal.
Them Jeans and Dan Oh opened the party and got the crowd going; then, Etienne De Crecy took the stage.
This was the 4th time I have seen Etienne, but the first time I had the pleasure of seeing him doing a live set. Wowzzerz, my mind was blown! He was doping original beats on the fly and sending special birthday messages to Steve Aoki and Steve Angello through out. I loved Etienne's DJ set, but his live show blows them out of the water. If you haven't checked this dood out, make sure to get on it ASAP.
The Party was just getting started. Up next was the night's first special guest, STEVE AOKI!!! For those of you that don't know, Dim Mak Tuesdays is Steve's party, and he is often dropping by to do surprise sets. This one was one for the books. Steve fully utilized the killer stage set up and rocked the house.

Vids by: Glenjamn
Time and time again, this guy delivers. At one point in the set, Steve was joined by Zuper Blahq (Will.i.am) for a live version of their hit single "I'm In The House."  This was def a sight to see, and my favorite part of the night.
Next surprise guest, STEVE ANGELLO!!! This dood knows what he is doing! I have seen the Swedish House Mafia a few times, but this was an experience – to see Mr. Angello in a club as small as Cinespace. It's always such a treat to see a DJ that has toured the world and knows how to work the crowd.
Around 2am, Steve Angello was still at it and I decided to be a turkey and head home. What a mistake! The night was far from over. The party went until 4am and featured a DJ set by Will.i.am and RedFoo of LMFAO.
All in all – a great night. The music was top-notch and it was nice that they limited the amount of attendees.  There was room to move and dance around. Can't wait to see what Dim Mak and Steve Aoki do for his birthday next year. -lorn
Swedish House Mafia – One (Congorock Remix)
Armand Van Helden & Steve Aoki – Brrat! (SonicC Remix)
On a side note:  The place was packed with superstar DJs. Tiesto, Skrillex, APL D AP, DJ Kid Lightning, and Destructo were all in the hizzy.