Remembering Scooby
It was a somber weekend in Nashville. Music City lost a well-respected on-air personality and just an all-around good guy, Curtis "Scooby" Senior. Scooby had been part of the 101.1 The Beat team (WUBT) with the Dolewite & Scooby show since the station signed on ten years ago. He wasn't only a voice on the dial, but a recognized face out on the town, hosting events and promoting local artists.
Celebrating The Life of "SCOOBY" – Highway 2 mars from Ray Zate on Vimeo.
I'm a fan of a healthy blend of nationally syndicated and local programming on a radio station, and The Beat does just that. However, the local element is obviously essential and the most powerful part of a station's character, and Dolewite & Scooby are a prime example of how a radio team should execute the power of the airwaves.
The impact made was proven by the turnout at Saturday night's candlelight vigil for Scooby. At 10:11 friends, family, co-workers, and fans gathered outside of the station for about an hour and a half sharing stories and memories about Scooby.
Video Credit: YouTube User joerilladrums
One young lady shared some words that resonated with me and would surely make Scooby proud. She's in the military and has been a fan of the radio show since she was a kid. She mentioned how therapeutic it was for her on breaks to be able to turn on the radio in her car and listen to the show while driving. It was a comfort of home and helped clear her head of the traumatic experiences she had.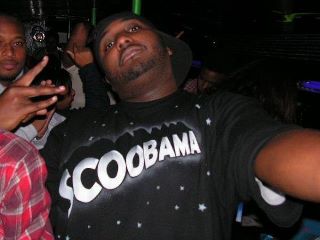 Besides being a big name in the Hip-Hop community, I can say he was a breath of fresh air in the office. He'd always wait and hold the door you, even if you were a flight of stairs away. Just taking a look at his office décor would put a smile on your face, like the sarcastically sarcastic sign that said, "Come on in. I have all the time in the world for you." I didn't know him well, but from the stories shared at the vigil, you can tell that he never turned anyone away. Scooby had such a welcoming aura about him and never came off as pompous, as many do in the entertainment industry. It's such a shame to see such a good person leave us so soon.
Scooby was just 32 years old. Please keep him, his family, and the 101.1 The Beat team in your thoughts and prayers.
You can share your condolences at www.1011thebeat.com.