Review – 3 Pill Morning @ House of Blues – West Hollywood, CA – 7/31/13
Review – 3 Pill Morning @ House of Blues
For the past several weeks, 3 Pill Morning have been on tour with All Hail the Yeti, Escape the Fate, and Hollywood Undead as part of the House of Blues 20th Anniversary tour. Has the energy and passion to be on tour still there on the final day of this tour date? Lets find out!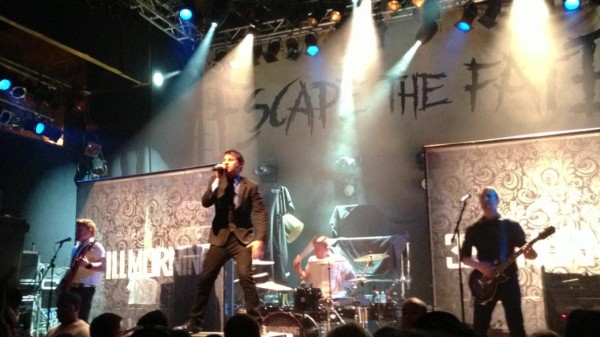 When I first heard  3 Pill Morning was on this bill, I was a little skeptic. All the bands that toured in this 20th anniversary package all have hard hitting stage presence, so it was interesting to see how the crowd would eat up a "softer" hard rock band. Well, to my surprise, the crowd absolutely loved them! These guys are great, don't get me wrong, but they aren't as hard hitting as the rest of the night's offerings, and to see everyone enjoy them as much as I did was a nice surprise.
3 Pill Morning performed as if they were midway in tour. The energy and passion was truly there, and the music sounded phenomenal because of how happy these guys were to play for the sold out Hollywood crowd. The vocals were top notch, until performing half way through the set where the vocals seemed off for a minute or two. Luckily the rest of the set went flawless and even better the the first half.
Lead singer Jeff Stebbins did a great job getting the crowd warmed up for the rest of the night. A lot of people were more than happy to follow his every command and applaud and cheer when prompted. This band is almost unknown in Hollywood, so seeing the crowd interact with the band in a positive way is a good sign of respect, especially in this town.
For those who haven't seen 3 Pill Morning: give them a chance. Their recorded stuff is nothing like their live stuff, and that's kind of a bummer, but even more reasons to check them out again. These guys are one of the better live hard rock acts out there, and it'll be interesting to see them hit the Hollywood clubs again in the future.