Review – 80/35 Music Festival – Des Moines, IA – July 2nd & 3rd 2011

80/35 Music Festival review
It was time again – time for Des Moines's annual 80/35  music festival. It started back in 2008 and delivers a very diverse selection of music that has something for everyone. It's a two day festival that runs about 12 hours each day. Since I'm more of a hard-rock lover, I literally didn't know who most of these bands were. I'm starting to think this a great way to get introduced to new music. Go to one of these big festivals and be exposed to dozens of amazing performers. You leave being into a ton of bands you knew nothing about just hours earlier!
They had three stages set up playing simultaneously and running the whole day. I found myself getting into bands and staying for their entire set versus trying to run back and forth to catch a little of every band.  The weather was perfect for day one; little cloudy and sprinkled a bit for day two, but not bad, and it sure didn't keep anyone anyway.
Video by YouTube User: leatherfaced
I saw many great bands, but my absolute favorite was Grace Potter & the Nocturnals. This is a band that I'm betting is going to be HUGE very soon. Grace Potter has an incredible amount of talent and amazing voice. Her stage presence blew me away. She's a photographer's dream to shoot. Something about a beautiful woman with an amazing voice in stilettos and strapped with a Gibson flying v guitar  -  gets me every time! HA! I am now officially a huge fan of theirs and feel very lucky to have caught them live fairly early in a career (which I have no doubt will be a lengthy one). I can't believe this band was not on my radar. If she is anywhere near your town, do not miss her!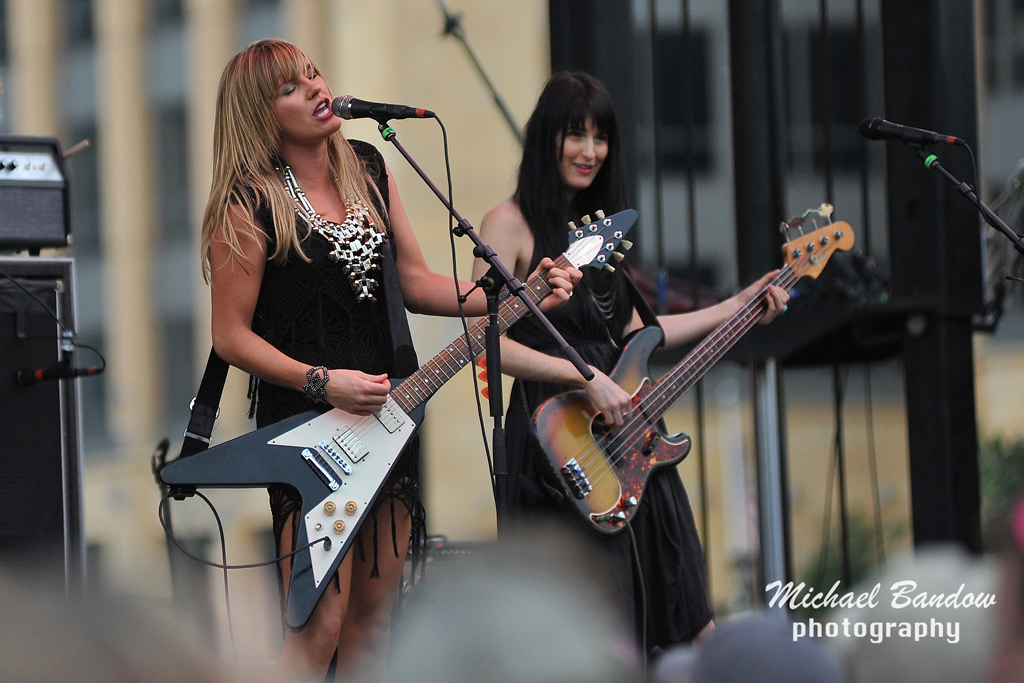 Other bands at 80/35 that I thought really stood out were The Reverend Peyton's Big Damn Band. Their classic sound with 'Washboard' Breezy Peyton scratching away on her washboard gives them a very unique sound. A real surprise was when the band Galactic took the stage with very special guest Corey Glover of 'In Living Color.' That band really had it going on and were a real crowd-pleaser. Edward Sharpe & the Magnetic Zeros was another very entertaining band. Most of the crowd seemed to be familiar with their music.
Video by YouTube User: TheHappyChromosomes
This was an amazing concert weekend that I will be going to from now on. I had a blast at 80/35 and made some new friends. I got to see Girl Talk spray the crowd with a toilet paper gun. I must have one of those! Big thanks to Jill Haverkamp of 'On Pitch" for all her hard work on this amazing 80/35 festival.