Review – Audiotistic 2011 @ NOS Events Center – San Bernadino, CA – 07/30/11
Audiotistic 2011 @ NOS Events Center Review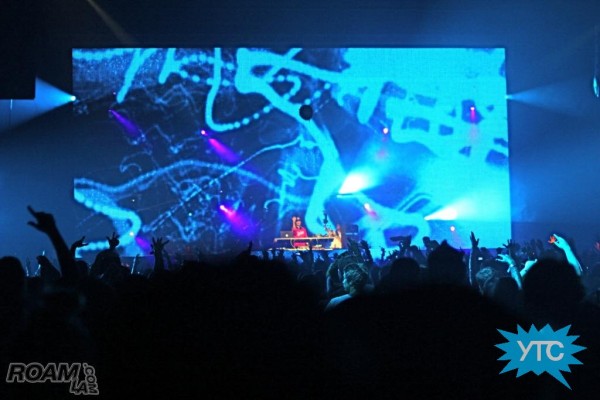 As Diplo would say, this year's Audiotistic was Audiotastic!  This was the 10th or so Insomniac event that I have attended, and I have yet to be let down.  The fine folks at Insomniac always go above and beyond and are raising the bar when it comes to experiencing concerts.
For the most part, I didn't know many of the artists, and there wasn't anything that was really drawing me to the show more than the fact that Insomiac always delivers.  I knew I would get to hear some killer music.  I was excited about seeing King Fantastic, Diplo, AraabMUZIK and Major Lazer, but was the most excited about discovering someone new.
Unfortunately, due to a random course of events, I was unable to make it to Audiotistic in time to catch King Fantastic's set.  It was def a bummer, because I had caught them about a month ago and they know how to throw a party.  I did, however, make it inside the gates just in time to catch AraabMUZIK.
I had seen AraabMUZIK earlier in the summer and was blown away! AraabMUZIK's show consists of  him composing live beats on a drum machine at an insane speed and at a steady pace.   It's crazy how fast AraabMUZIK can work the drum machine, and the entire crowd was feeding off the energy.  I was a bit bummed that more people weren't in the hizzy for AraabMUZIK's set, but I am sure that if you talk to someone that was in the audience,  they would highly recommend checking him out.
After AraabMUZIK,  I took some time to wander the festival and check out the atmosphere.  One of my favorite things about Insomniac events is the old school ice cream truck that they bring in and blast Reggae jams out of.  I am not sure what they call this truck, as it wasn't listed on the festival map, but it was a great place to chill out and regroup with friends throughout Audiotistic.
One of the things I always make a special point to do at festivals is to talk with as many attendees as I possible can.  I like to find out who's hot and worth seeing.  One of the acts I heard a lot of people chattering about was Bingo Players.  I had heard the name Bingo Players several times before, but had never had a chance to catch them.  As I was wandering Audiotistic, I eventually stumbled onto a good-time dance party that just so happened to be a Bingo Players set.  The crowd was going wild and Bingo Players were dropping some seriously wicked tracks.  I am extremely glad that I finally got to catch Bingo Players, and they are def on my list to see again after their Audiotistic set.
After Bingo Players closed their set out,  I made my way over to another artist I had been hearing  a lot about around the festival, Plastician.  If  I had to pick one artist that Audiotistic that won me over more than any other it would have to be Plastician.  He just dropped it so damn hard that the ground was a-shaking.  I was captivated throughout the entire set and truly wish that I had been able to catch it in its entirety.  Plastician def knows how to drop some  wobble and needs to be on your "to see list" if you are into Dubby beats and getting down and grimy.
Ed Rush and Optical took that stage after Plastician's set was finished.  I had heard about these guys over the course of Audiotistic and was pretty excited to see them.  However, their old-school Drum and Bass beats weren't my cup of tea,  so I made my way over to The Boom Box stage where AC Slater was on decks.
AC Slater commands a crowd and was dropping some dark and sick beats.  I dance-partied for a few tracks and then made my way back to the reggae truck for a chill-out session.
After I met up with some of the homies, we made our way to the Treble Frequency stage to catch the end of Porter Robinson's set.  Porter Robinson had the stage a popping, as the crowd started rolling in for Flux Pavillion and Doctor P.  I had heard a gripload of peeps talking about Flux Pavillion and Doctor P over the course of the day, and honestly, I had know idea what I was in for.
Flux Pavillion and Doctor P took it to another level and did a great job of dropping the beat and working in whistles and loops.  If I had to pick one act that I think the crowd went the craziest for, it would have to be Flux Pavillion and Doctor P.
Diplo was the next artist to take the Treble Frequency stage.  Diplo's set surprised me as it was a lot different than the times I had seen him previously.  Diplo is always on top of it and has a way of reconstructing and remixing tracks like no other.  Diplo managed to take tracks that almost everyone knew and make them into something entirely different.  Diplo's Audiotistic set was very heavy into the Dubby beats and a true testament to his talents as a producer.
The day was flying by – only a few hours left of Audiotistic.  Lil B was next on my list. I had never heard of Lil B before, but had a few friends mention him to me and figured it would be worth checking him out.
Lil B def had some killer flow, but the beats he was rapping to didn't exactly mesh well for me. After a track or two, I jetted over to Datsik's set to get myself some more Dub.
Datsik was just what I needed and kept me bobbing my head; plus, the crowd was really into it which made the set an especially nice treat.
There was only an hour or so of Audiotistic left and so many acts to catch.  I spent the next hour wandering around the festival and catching bits of Wolfgang Gartner, DJ Fresh and Major Lazer's sets.
Wolfgang Gartner was playing the bangers and had attendees that stuck it out to the wee hours moving to the groove.  I had several people mention DJ Fresh to me and was pretty excited to see him.  DJ Fresh didn't fill my end of the night thirst, so I decided to close out my night with an all-time party favorite, Major Lazer.
This was the 7th time I had seen Major Lazer, and although their set was great, the crowd was the smallest I had ever seen at a Major Lazer set.  It took away from the experience in my personal opinion.
In closing, Insomniac did it again, and Audiotistic 2011 was a blast!   I got to discover some awesome artists I had never heard of before, meet a lot of really cool people and got to hang out with some good friends.
I would also like to send a big thanks out to all of the fine folks that volunteered to work the free water refill stations and the Ground Control shifts.  If it wasn't for all of you, I don't think the festival would have been nearly as fun.  So, thanks for volunteering so everyone else could have a blast!
If you were at this year's Audiotistic, make sure to comment on this post and let us know what you thought because, "When You Tell Concerts, It's Cooler" – lorn