Review – Backstreet Boys @ Axis – Las Vegas, NV – 03-08-17

Backstreet Boys Residency 2017 – Las Vegas, NV
It has been a long-ass time since I've posted something on YouTellConcerts. However, when one experiences an epic event like the Backstreet Boys' "Larger Than Life" residency in Las Vegas…one must post.
I won't share a ton about the show itself, because it should be a surprise.  If you've been to a Backstreet show in the past, you know how awesome they are. I've been to about 20 BSB concerts over the years (including Johnny No Name and solo Nick performances).  They just get better, and they will absolutely blow your mind this time.
I tried so hard not to look at the set list, but alas, I did.  If you did the same and were hoping they'd sprinkle in some obscure tracks…don't fret.  There are montages during costume changes that will fulfill your needs.  I'll be honest, there was one song in the set list that even I didn't know.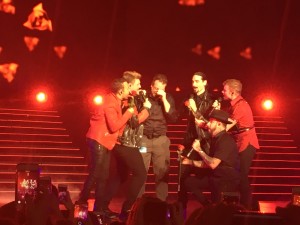 Chances are, every night will be a totally unique experience.  I went on March 8th, which was the night *NSYNC's Joey Fatone was in the audience. He was brought up on stage and serenaded by the boys who were holding long-stemmed roses.  Joey then planted a balance-breaking smooch on Nick's face.
Brian's gorgeous wife, Leighanne Littrell, and their son, Baylee, were also in the VIP area. I mean…seeing Baylee was like witnessing some "Back to the Future"-type sh*t. He's basically a '90s Brian clone.  Watch Leighanne's Instagram post from the show and see for yourself.
https://www.instagram.com/leighanne_littrell/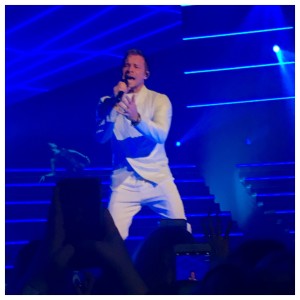 I imagine Florida Georgia Line will be the special guest on the dates surrounding the ACM Awards (just speculating).
I didn't get video fan reviews after the concert, so I'm leaving it up to y'all to comment on this post and share your favorite moments and advice for fellow fans.
Below are some FAQs that I put together based on my own questions going into this adventure.  I hope you find them useful.
Get your tickets and view VIPness availability HERE!
Thanks for reading, and Keep the Backstreet Pride Alive.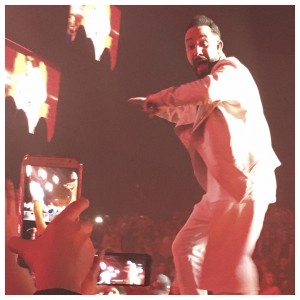 ##
How much can I expect to spend?
Honestly, a healthy chunk of change.  My husband and I have affectionately renamed this limited Las Vegas engagement as the "Into Our 401k" Tour.
My grand total was around $850, and I stayed in Vegas less than 48 hours.  This included show tickets, airfare, $120 of merch, drinks, $60 gambling money, outfit, hair/makeup necessities, Lyfts, and food.  It should be noted that I got a great deal on tickets/airfare, and I didn't have to pay for a hotel room.
Is it worth it?
Every. Damn. Penny.
What tickets should I buy?
I would go for General Admission Pit tickets or a VIP table seat.  If I hit a jackpot, I would have gone the VIP table route.
Where to stand in the pit:
I think the corners of the catwalk are the best spots to get some love.  You'd get them walking down the catwalk and on the main stage or horseshoe extension.
Ticket Tips:
Keep a hawk-eye on Ticketmaster, StubHub, and the Facebook event pages/groups.  There are some on EBay too, but your best deals are probably on Ticketmaster.  I checked these sites probably 10 times per day.  One night, I woke up at 1:30 AM and found 2 Gold Circle Pit tickets for $130 a piece.  Bought them on the spot.
Travel Tips:
It looks like Groupon Getaways has some decent hotel deals.  (Don't fear the Golden Nugget on Fremont Street; it's a dope hotel.)
I got a killer airfare deal through Frontier Airlines.  Thank God for the Wednesday shows.  I just packed everything in a backpack and didn't have to pay the extra baggage fees they are notorious for.
How early should I get there?
We got there around 7:00 PM, grabbed some drinks, talked to other fans, and then the doors opened.  We waited a little over an hour for the show to start.  If you're a VIP'er, you'll have a full day.
Can you drink in the pit?
Yes, but there isn't a place to throw your cup when you're done.  You can leave to get another drink, but you'll probably lose your spot. Just get a triple ($24), and you'll be more than fine. : )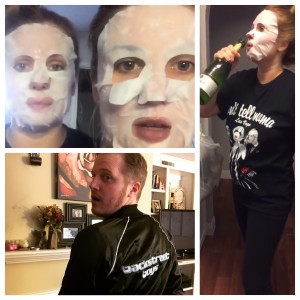 Making the Most of Your Trip:
Document It – Insta, Tweet, and go LIVE!  Or just take pics and vids for your own virtual scrapbook.
Geek the f*ck out…make a shirt, learn the dances, befriend other BSB-lovers and share stories.  That's what this is all about.  You deserve it.
Prep! – Half the fun is getting ready.  My sister and I popped champagne, did facial masks, listened to as much Backstreet as possible, and quoted hilarious lines from the "Show 'Em What You're Made Of" documentary.
Wish I knew:
Backstreet Boys Residency Las Vegas 2017 Facebook Group:  seat views, ticket resale, videos, reviews, fan meetup, and more!
             https://www.facebook.com/groups/190943764668011/
Gold Circle: Your feet are going to hurt! Just be prepared for that.
How wonderful the boys and their wives are on Instagram. I'm not an Insta person, but I might become one after this trip.
Some dates still have VIP/Meet & Greets add-ons available. I mean, I can't afford the additional $500…but maybe you can?  (We're talking a solo pic with you and the boys here.)
What else should I do in Vegas?
Fremont Street is always a blast.
There's a great piano karaoke bar called, "Don't Tell Mama." 
I'm bummed I didn't check out Wahlburgers.
Maybe hit up a club/bar crawl.
Enjoy some pool/Jacuzzi time!
I hear there's a great Blow Out service near the theatre (and you could win some BSB tix!)
Get Married!  (Haha…juuuust kidding.)
Other BSB-related Fun:
Backstreet Bootcamp: Brilliant idea to get yourself in tip-top shape for that sparkly ensemble and VIP photo!
https://www.lipstickandlunges.com/single-post/2017/01/20/Introducing-BACKSTREET-BOOTCAMP
The Knot's Bachelorette Party with Backstreet Contest. Details:
https://www.theknot.com/content/bsb