Review – Barry Manilow @ Wells Fargo Arena – Des Moines, IA 4-12-12
Review – Barry Manilow @ Wells Fargo Arena – Des Moines, IA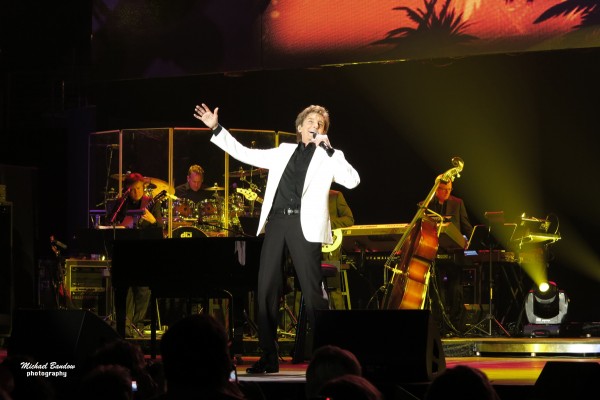 Review by Shelly Banks
There are few entertainers who can make the Wells Fargo Arena seem like an intimate gathering, but Barry Manilow is one of those rare artists. From the opening medley of his "It's a Miracle" and "Could It Be Magic" classics, and through the 21 song set, Barry made it seem like he was singing to a small, familiar crowd.
The stage was set with a baby grand piano on one side and keyboard on the other. Barry came out in a black sequin blazer,  looking like a true showman. He worked his way between the pianos performing all his top hits. His band was entirely at the back of the stage, and we couldn't see them except for when Barry introduced them and rightly praised them for their incredible performances. Manilow's piano-heavy numbers required three additional keyboard players along with his legendary skills.
Barry entertained us like we were sitting in his living room. We laughed at his jokes about his big nose and various hairstyles. We cried when he sang "This Song's For You" sharing the inspiration behind the song (his beloved grandfather), and then, we did the "Bandstand Boogie" and "Copacabana" -ed the night away.
A screen between the piano and the keyboard onstage took us on a trip down memory lane. We saw Barry Manilow's introduction to the world by Clive Davis and Mac Davis on a 1973 episode of  "The Midnight Special."  He performed his first hit "Mandy," a cover of a British record originally titled "Brandy," but renamed due to a competing song by The Looking Glass.
We learned the origins and inspirations of the songs we've been singing along to for the last 39 years. We even got to see Grandpa and hear a recording of Barry's first "in studio" performance, a dime store novelty set-up in the late 40's Brooklyn where Gramps took him every Saturday and tried to get him to sing "Happy Birthday."
We celebrated the music and the memories like we were a  part of the family. No other stage fanfare, decor, or techno pizazz needed. Barry need only rely on his talent, song writing skills, and incredible voice to entertain the crowd of  "Fanilows."  A change of blazers throughout the night was the only grandiose gesture that reflected an expensive stage show. Other than that, it was just Barry and us. Together. We had a great time!
If Barry is coming to a living room near you, don't pass up this spectacular night of feel good, fun music. You won't regret it! Spend the evening with Barry Manilow. He writes the songs that make the whole world sing.