Review – Bat for Lashes @ Fonda Theatre – Hollywood, CA – 4/23/13
This review of Bat for Lashes comes from Chris Modisette, someone who I consider to be one of LA's greatest concert goers.  Chris has written review's for YTC from time to time over the year and is incredible knowledgeable and insightful when it comes to critiquing concerts. Thanks for the review Chris!  – Lorn
Bat for Lashes @ Fonda Theatre Concert Review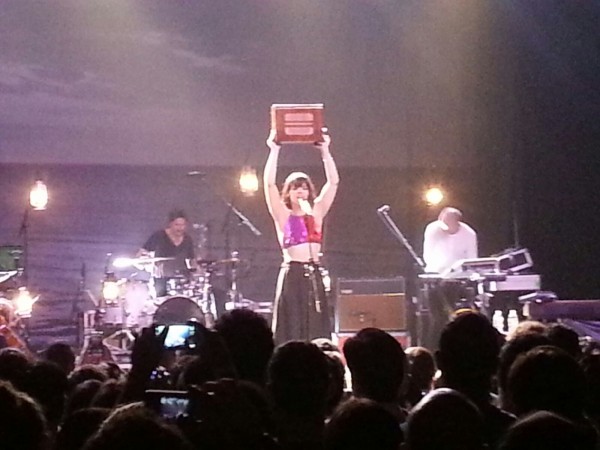 So often these days it's hard to find an artist that does it all.  Some have an incredible amount of talent, but lack the ability to perform.  Some are very dedicated to the performance, but lack talent.  Bat for Lashes is that rare act that has both the talent and the natural knack for performing in spades.
Tonight was my first time seeing Natasha Khan and her band, after having wanted to for some time now.  I had intended to see her Coachella a few weekends ago, but the hour-plus line at the phone charging tent prevented me from doing so.  This show could not have come at a better time, as lately I've been listening to her more than ever and she hadn't yet played Los Angeles since her wonderful most recent album, The Haunted Man, was released last year.
And the loud yet somewhat motionless crowd realized that tonight.  Beginning the set with the "Lilies", the opening track from her latest album, Ms. Khan seemed to be just as ecstatic to be playing for the crowd as the crowd was to be watching her perform.   The band, which featured a very technically impressive drummer and three other multi-instrumentalists, proceeded to play a very balanced mix of songs from each of her three albums, including the very upbeat and fun "All Your Gold."
What followed though, were two songs whose sheer beauty and brilliance I'm not quite sure I had recognized until seeing them performed live.  "Laura", the first single from the new album, was an emotional powerhouse that had Natasha belting out some of the most impressive vocals I have seen in a very long time.  "Siren Song", an even more stripped-down affair, was absolutely astonishing as well.
The show then picked up tempo a bit with what seemed to be a crowd favorite in "A Wall", followed by a few older tracks that rounded out the main set.  The most fun song of the night was the predictable show closer "Daniel", which had both Natasha and the crowd dancing with joy.
It does seem that with three albums now under her belt, that Bat for Lashes should be playing shows longer than 75 minutes at this point.  But when you give everything night after night as this band most definitely does, it really doesn't matter.