Review – The Battle of San Bernadino w/ Anthrax & Iron Maiden @ San Manuel Amp – San Bernadino, CA – 9/13/13
Review – The Battle of San Bernadino
w/ Anthrax & Iron Maiden
@ San Manuel Amp
The Battle of San Bernardino has been one of the most talked about shows since it was first announced a few months ago. To see some of the worlds biggest names in metal on one stage was something not to be missed, so I knew I would regret it if I had missed out on this legendary bill. There were over 30,000 people were in attendance, and by what I've heard, it was a sell out show at the San Manuel Amphitheater. I was lucky enough to be one of those 30,000 people in attendance to experience this once in a lifetime event.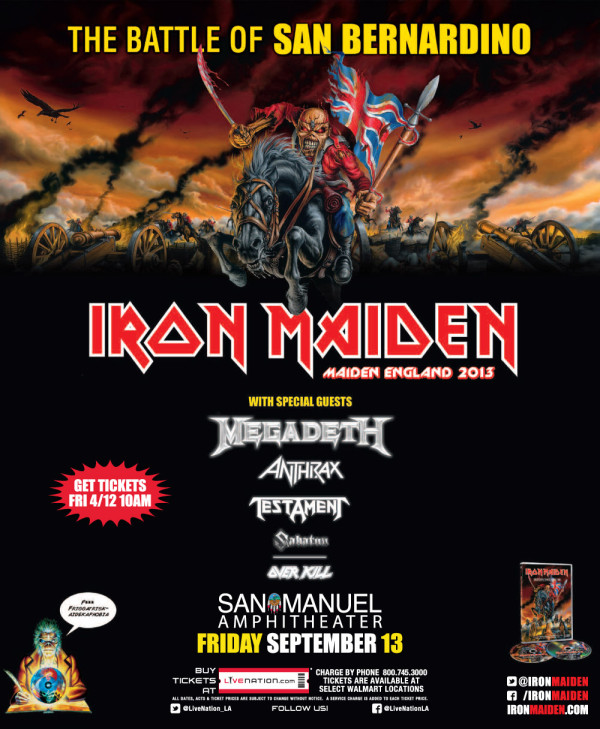 Fun fact about me: I always miss Testament at a show that I'm attending. This is not my choice, but the fate the traffic gods of Los Angeles has chosen for me. After a solid 3 hours of being stuck in traffic, I had arrived to the venue in time to buy some merch that selling out quick. I was surprised to hear a lot of the merchandise that was being sold was selling out quickly, but I was lucky enough to buy the last of the collectable Iron Maiden cups that were being sold. Once I had found my seat, it was only a matter of time before Anthrax had hit the stage.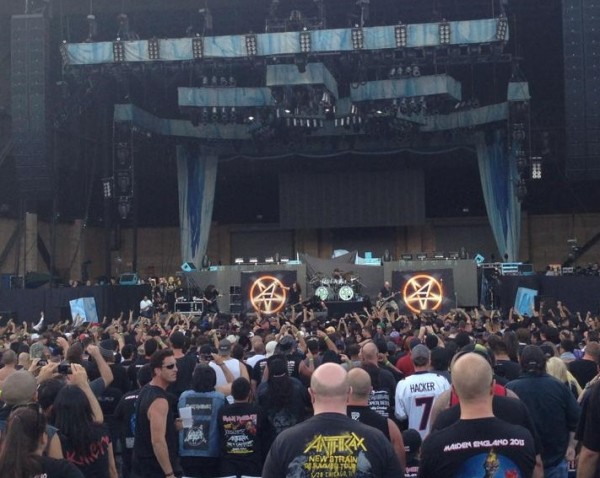 Anthrax had opened up with Caught in a Mosh, a song normally heard later on at one of their shows, and I was immediately losing my mind. Next up was Indians, another song not usually heard during the beginning of a set, but I wasn't complaining. To hear some of their biggest songs as soon as they hit the stage is something I don't expect to happen again. I sang the words to Indians, you know, along with 30,000 other people, and had to contain myself to not start a circle pit in the orchestra section. Oh, and by the way, Jon Donais fits in perfectly with Anthrax as their new guitarist. He's added new life to a band that's been around for over 30 years, that's not to say Rob Caggiano wasn't good, but Jon has definitely added something extra to one of the big 4 bands.
I wish we had got a longer set from Anthrax besides 6 songs, but I can't complain since they put on the best set I've seen them play in a long time. My personal highlight from this set is the band performing In the End, a tribute to Ronnie James Dio and Dimebag Darrell at a show that brought together the metal community of Southern California to one area to bond together and share a special moment.
Megadeth was up next, and they opened with Hanger 18, a personal favorite that I've been dying to hear live again. I start to realize that I may have underestimated how truly special this show was suppose to be. I know Megadeth is known to change their setlist every now and then, but I really wish they would have played all the classics and a little less of the new stuff. People were just standing there just kinda nodding their heads until they finished the new material, which isn't bad, but it's not what I feel was right for this "one night only show." I mean, I know they have to promote the new album and all, but let's be honest, not everyone wanted to hear new material that slowed the show down. Anyways, besides the new songs, Megadeth put on a solid show that was highly enjoyable. Oh, yeah! This was Dave Mustaine's birthday, but no mention of it was made on stage. Weird.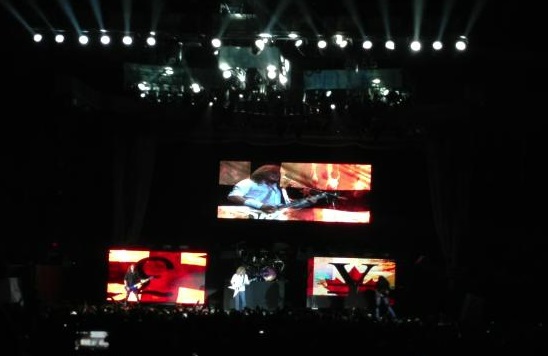 I've been looking forward to this show because I was finally going to see Iron Maiden, a band that was on my bucket list of bands that I wanted to see. Even after Megadeth was off stage and Maiden's stage was being set up, I was still not believing that I was about to see them in just a matter of minutes. The intro starts to play and I'm still in denial- up until Steve Harris hits the stage do I believe that I'm finally seeing the biggest international metal band of all time.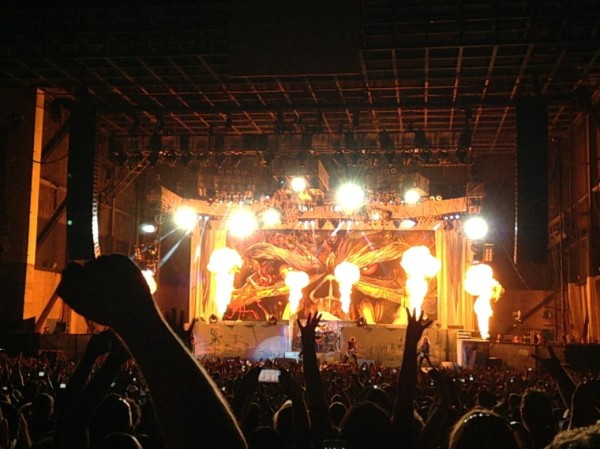 We start the night with Moon Child and blast through an impressive list of songs from Maiden's discography. From The Trooper, to Phantom of the Opera and from The Number of the beast to Aces High, there was not a single song that made you want to sit down and take a break from rocking out. In all my years of seeing concerts and bands play, I have never see or heard anyone as impressive as Iron Maiden. The sound is a total blessing to the ears, and no blu-ray or vinyl can tell you how divine their sound is at a live concert.
Beyond the music and the legendary talent of Iron Maiden, the show was brilliantly produced with pyro, fire, giant Eddie's, lighting, and more stage backdrops than you can shake a stick at. Seeing Bruce Dickinson on stage and interacting with all these elements made it look like he was a conductor of this Seventh Son of a Seventh Son stage set up. I can only imagine what a child's mind must be thinking if this was their first show. They must think Dickinson is some sort of a magical wizard (to some adults, they might actually believe this).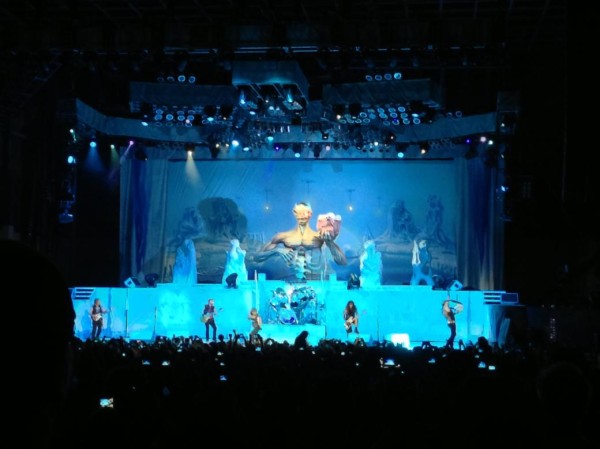 After it was all set and done, I'm walking out of the venue and barely believing what I had just witnessed. I can now cross iron Maiden off my bucket list, and I can proudly say I was at the Battle of San Bernardino knowing that I was lucky enough to attend when a lot of people from all over the world wanted to be there. As of this Maiden date, I have attended 47 concerts this year, and out of those 47 concerts, this one left me with my jaw dropped for a good 3 minutes before I caught myself. I know they have different stages and different setlists that they go through, so this is all the more reason to attend another show and see Iron Maiden over, and Over again.