Review – Ben Folds @ The Wiltern – Los Angeles, CA – 07/21/11
This review of Ben Folds at the Wiltern comes from Sussana Dooley Boney. I meet Sussana while we were both working at Paramount Studios in Hollywood and have to say that she is one of the most bubbly and effervescent people I have had the privilege to know. I hadn't seen Sussan in a few years, but by random chance she happened upon a car party that I just so happened to be a part of.  She asked me how YTC was doing and we began to chat and I eventually brought up the fact that I was looking for writers.  Sussanna was more then excited to write for us and well here is her first review -lorn

Susanna's Ben Folds street cred
I always hoped that my inaugural You tell concert blog post would be a fair, balanced, unsubjective piece of musical journalism. But, as most hopes eventually do in this God-forsaken rat race we call life, this hope is dead. Dead as a door mouse. Dead as the rats in the afore mentioned rat race life metaphor. Dead as a door rat. Dead.
I. Fing. LOVE. Ben Folds. I am a card-carrying member of the official Ben Folds Fan club & plan on re-upping my membership again when it expires this fall. This is the seventh time I've seen him,
- Stubbs BBQ, Austin TX 11/3/06
- The Wiltern. LA 5/07
- Jimmy Kimmel Live taping w/ Regina Spektor, LA 11/08
- The Wiltern, LA 11/08
- The Music Box, LA 5/12/10
- The Music Box, LA 5/13/10
- The Wiltern, LA (tonight)
and my husband's fourth. We're diehards. The two of them share a spooky parallel of a Redneck Past spent in North Carolina's Applebee's ridden Piedmont-Triad area, and Evans finds solace in the comradery. I've loved Ben Folds ever since I had to make the tough decision of whether to buy Whatever & Ever Amen on cassette (so I could listen to it in the car right away) or that new "C.D." thing that my dad had just bought a player for at a pawn shop for $400 that he said could actually make a whole bunch of copies of that "C.D." thing on a cassette tape if I didn't like the "C.D." thing. (Update: I bought & ended up liking the "C.D." thing)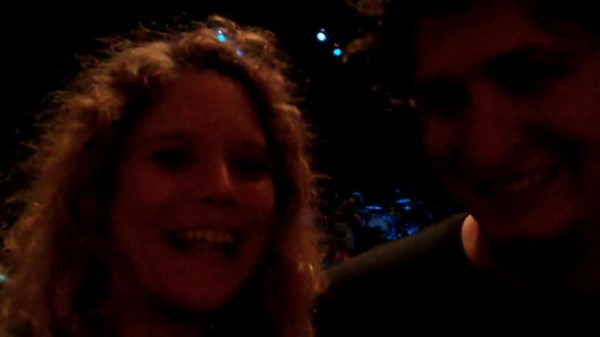 That said, I didn't really dig the most recent Ben Folds album. Lonely Avenue, the conglomeration of lyrics written by British novelist Nick Hornsby & music by Folds, was good… but, Foldsy forgive me, not that good. Not Rockin' the Suburbs good for sure, but not really The Unauthorized Biography of Reinhold Messner good either. When not hosting singing competitions on NBC (which, by the way, I thought would be a totally lame show, but it ended up having a really great finale that made me wish I had watched any other episode), Folds has been trying a lot of collaborations and outsourcing his projects recently (E.g.: "Ben Folds Presents: University a Capella," his a capella album of covers released in 2008) and I just haven't really felt it.
The first and only time I've seen Ben play in Austin, Texas was in November of 2006 at Stubb's Backyard BBQ. It was so overcrowded with Fold's fanatical frat boy followers, that things got rowdy quickly. I distinctly recall a moment of sheer panic wherein I realized that what I had mistaken for a typical sweat-covered human being standing next to me, was in all reality a missing link from the evolution of swine, with a Ben passion that no human on this green earth could match. I identified him as a species found somewhere between what we now know as the common Mojave Desert Javelina and its gargantuan prehistoric grandpa-piggy of the Jurassic Era, the Daeodon. He had fooled the ticket takers & bouncers into thinking he was human, and was claiming squatter's rights on my 1/2 Feet of Personal Space at All Times at a Concert rule. He held on to social congenialities for as many songs as his enthusiastic little heart could muster, but eventually he gave in and broke a beer bottle over his own head the moment Ben's left middle fingernail pegged the first key to "Zac & Sara." Granted this incident was five years and two albums ago, but have Ben's fans grown up that much? Have we, the fanatical former frat boys and frat girls, grown up and do we now behave ourselves at concerts? I would like to think that the difference between an Austin crowd and an LA crowd is at fault, but I blame Ben.
It's not bad, mind you. I don't mind not having to detangle shards of glass from my hair; shards that have adhered to my scalp by the mixture of my forehead sweat plus the very beer that said broken glass once held intact and safe. But Ben Folds has definitely calmed down and so too has his audience. To see what I'm yammering about, I highly recommend a youtube-ing of videos of the Ben Folds Five playing in Japan in the 90s- dude is a stage monster. Or, this video from the encore of that fateful night at Stubb's where I became a BF concert disciple:
I blame Ben Folds new happiness. A cursory Wiki search reveals that Ben Folds was going through a divorce the very month that I saw him play at Stubb's, and man'o'man was he banging the crap out of those black'n'whites. Ben's pain & frustration was being brutally beaten into the keys, and it was beautiful to behold. But, he has a family now that he is prioritizing, and there were some extremely tender moments tonight where I almost swear I could see tears behind those Rivers Cuomo spectacles. Namely, when Ben Folds played a triplet of three songs written for and about his family; son Louis' "Still Fighting It," Louis' twin Grace's "Gracie," and wife of 4 years Fleur's "The Luckiest." Yeah, I know that song came out in 2001, but tonight he said it "…Always was, always is, and always will be about Fleur", all right? Every last girl, and most of the men, swooned. ::Siiiiigh::. Oh, Ben. I'm so glad you're happy now. We, your adoring public, wish you and yours enduring happiness, even at the expense of our concert goer street cred.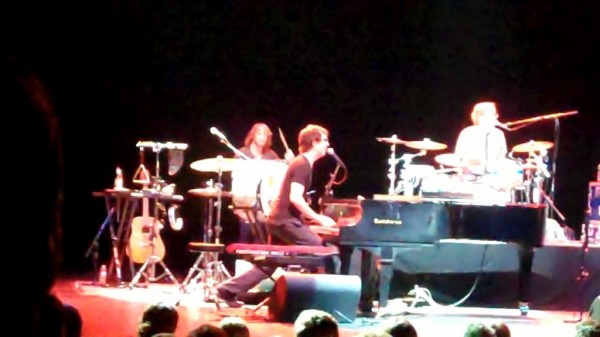 Ben Folds – Lonely Avenue Tour @ The Wiltern
Concert Review
Tonight, Ben stayed mostly with his two most recent albums, Way to Normal and Lonely Avenue. This is his Lonely Avenue tour after all. Ben opened with the pseudo- topical rebellious ballad, "Levi Johnston's Blues" and moved on to Lonely Avenue's title track. I find that usually when I hear a song by a beloved artist on an album or the radio that I don't really like, if I hear said song preformed live, I'll usually flip flop to a minimum of sorta- liking said song. That was indeed the case tonight, and I think I'll give the album another listen-to on my sit'n'crawl on the 10 in a few short hours. Ben then promised the audience that he'd play something different, tossed his stool behind him and pounded out "Gone" from Suburbs to the crowd's delight. Actually, It wasn't so much the crowd's "delight"… more accurately: he played "Gone" to the crowd's "mild pleasure." Los Angeles concert crowds are notoriously stolid and tonight's crowd was no exception.
The music was wonderful, but the interludes between songs were what made the $15 parking fee I grudgingly relinquished worth it. A Ben Folds concert is heaven for a music nerd. He never forgets to let the audience know what key he's about to play in, and often makes time to enlighten the crowd about the ins and outs of music composition and any cool distortion trick he's picked up since the last concert. Tonight, for those who missed this tip, Ben Folds suggested to all burgeoning composers to make generous use of the tear-inducing Lydian Mode, or Scale, if ever given the chance to write a film score. As he said tonight, "Yeah, it'll make you cry… make you cry when you see the paycheck you get from writing this crap!"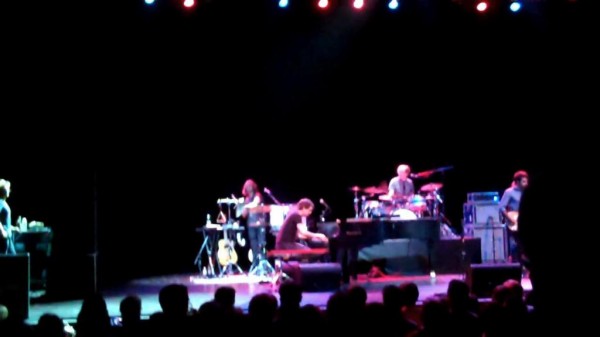 Ben Folds told an amazing tale of Ke$ha appearing out of thin air to Baywatch Barbie his drowning cell phone out of a motel swimming pool before playing the first of only two covers of the night, Ke$ha's "Sleazy." Later, when Ben lamented that a different proceeding song would not allow him the chance to stand on his piano, an ebullient fan yelled, "Do it anyway!" Ben seemed not to hear him. Ben Folds looked down at his hands for about 7 seconds and when he looked up, he and his four-piece band launched into what has got to be one of the finest examples of improvisation that has ever been witnessed by man. The song, tentatively titled "Do It Anyway!" that resulted from that heckle was so funny and so rollicking, that by the end of the jam even that stodgy and stoic LA crowd had their hands up and their iphone4's down, and had given way to getting' funky- all alone in our white boy & girl pain, we shook our booties while the band complained. Ben Folds played a few more songs from Suburbs, Songs for Silverman, Way to Normal & Avenue and the crowd got more movin'. There weren't very many Ben Folds Five songs, but he obliged us with our fan favorites, "Zac & Sara" and "Annie Waits" to allow the diehards to clap three times in the appropriate pre-approved places (I.e.: The Rocky Horror Picture Show's movie theater screenings where the diehard fans just know when to cover their heads with their newspapers like Janet and when to throw their toilet paper rolls at Rocky.) Bob Saget even made a hilarious surprise appearance to sing the 2nd verse of Dr. Dre & Snoop Dogg's "Bitches Ain't Shit" (the other cover, besides Ke$ha's, of the night) much to the joy of the crowd. All in all, a pretty damn good show.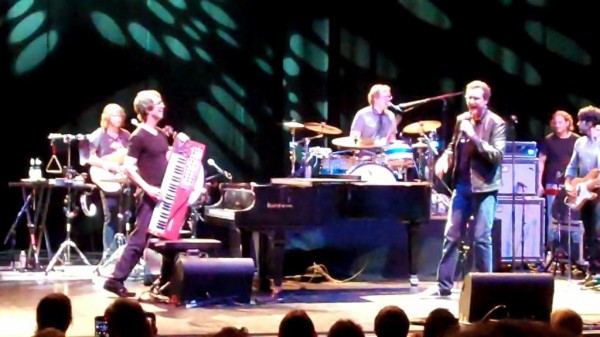 Ben Folds came back for one encore and played a silly and technically advanced "white boy percussion attack" jam with a killer drum solo by his amazing guitar player and a slap bass exhibition by both Ben (who is not too shabby on bass) and his bass player. Ben Folds  ended the encore by breaking the crowd into an arpeggian harmony (a first, third and fifth note in a scale makes an arpeggio, usually a pretty & nice sounding chord if in a major scale, but can sound foreboding in a minor) for the vocal break on "Not the Same." Nothing makes me feel the spirit of God/ Ganesh/ Vishnu/ Jehovah more than a full theater having a group sing-a-long with Ben Folds.
Ben Folds can release whatever bullshit album he wants next. I'll buy it. And I'll buy a ticket to the next show, too. I might buy a t-shirt from the bootleggers outside instead of Ben's merch table inside, but he'll get my money and my ear one way or another. In fact, if I had my druthers, I would follow his next tour around with the fervor of a Dead Head. Ben Folds is a great performer, a better storyteller and an unsurpassable musician. This particular Youteller gives this show a "Hell yeah I'd see him again!" and will be anxiously awaiting the next LA tour stop.
Homework: Go see a concert. Any concert anyone suggests! As Kurt Vonnegut said in Cat's Cradle, "Peculiar travel suggestions are like dancing lessons from God," so go out and do something peculiar. Adventure on, dudes and dudettes! – Sussana Dooley Boney