Review – Ben Kweller @ Mercy Lounge – Nashville, TN 4/1/12
Review – Ben Kweller @ Mercy Lounge – Nashville, TN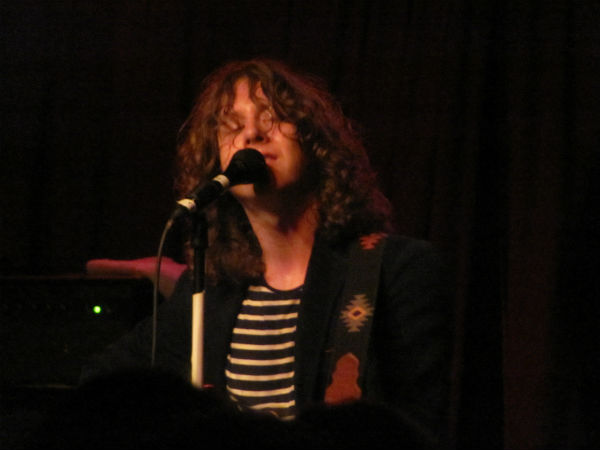 Who's Ben Kweller? I hadn't a clue, but I liked the sound of the press release: "rich harmonies, lush arrangements, and bittersweet lyrics channeling slacker garage rock, 70's pop-rock, and Americana/folk." I can hang with that. My husband, who works closely with labels and their releases, had heard of him and the Facebook buzz about the upcoming show got my attention.
Honestly, I was really excited for opening act, Sleeper Agent, a band that calls nearby Bowling Green, Kentucky home (an area that has been spitting out killer acts lately, including Cage the Elephant). I missed Sleeper Agent warming the stage for Liz Phair last year, and everyone was raving about them afterwards. Now, they are accompanying acts like Kweller and fun. on tour! You can imagine my disappointment arriving at Mercy Lounge to find out they already played. Dang it!
There was a decent turnout for a Sunday night $20 cover. In a city where people are reluctant to shell out ten bones for a show, I could tell this Ben guy must be worth the money. I'm guessing the crowd was mostly college students or those reliving college memories that weren't too far in the past. Oh, and I'm pretty sure Kings of Leon's Caleb Followill was somewhere in the venue, because Kweller definitely did a name drop/shout out in during the show.
Once Ben Kweller took the spotlight and started up, I felt that Dorm Rock vibe. It reminded me of a time of sharing new artists and music via Napster-burned discs without knowing the implications or feeling the guilt; an era of distancing from the mainstream and finding a more mature musical identity that suits a goal-driven and love-seeking lifestyle. Those were the days…kinda.
I wish I had found Ben Kweller in my personal journey, but alas, I think he probably blossomed past my alma mater days, despite us being close in age – which is something that took me aback big time. I would never guess that he was over 21 or had a wife and kids…but about the show.
Ben Kweller had the presence of a '50s heartthrob. Within the first minute, I developed a weakness for his lush and shaggy curls, a characteristic the other girls in the room were clearly already hip to. The '60s pop melodies with Garage Rock execution was a combo that would fit my playlists like a missing puzzle piece. I was hooked.
When he put the guitar down and moved to a Piano Rock portion of the show, he reeled me in. Ben Kweller was meant for me – pleasantly poppy with enough cool cred to keep me from hiding my Spotify activity. Not to get all granola, but it was a nice night for his music too – the weather was perfect providing a peaceful energy going into it. Being four months pregnant, I tend to get tired and distracted about a half hour into a show. I think the baby must also like Ben, because I was awake, happy, and feeling good the whole concert.
He played a lot of songs off his new album, "Go Fly A Kite," which has an overall Tom Petty quality and displays the Petty sense of range. A couple of favorites live were "Out the Door," a chug-a-long traveling number with a Monkees' "Last Train to Clarksville" feel, and "Full Circle" which moves in a Southern Rock direction with some sweet harmonies.
A crowd highlight was his 2002 debut single, "Wasted & Ready," sparking screams and a sing-a-long. Ben Kweller then went into a segment of acoustic love songs dedicated to his wife, Lizzy, who he was excited to see on his two-week break that started the next day.
For an encore, Ben came back out and talked to the audience a bit. He mentioned that the show was being recorded – always a fun piece of fan memorabilia. He also teased about moving to Nashville for a couple of weeks in the summer…or was he teasing? He closed with the most grandiose song of the evening, "Penny on the Train Track," – the 10-minute version.
You can catch Ben Kweller on the tour starting up again on the 19th. He'll be visiting Texas, California, Oregon, Washington, Utah, Colorado, and the UK. Do it, do it!