Review – Blondie @ Harrah's Stir Cove – Council Bluffs, IA 9-5-11
Review – Blondie @ Harrah's Stir Cove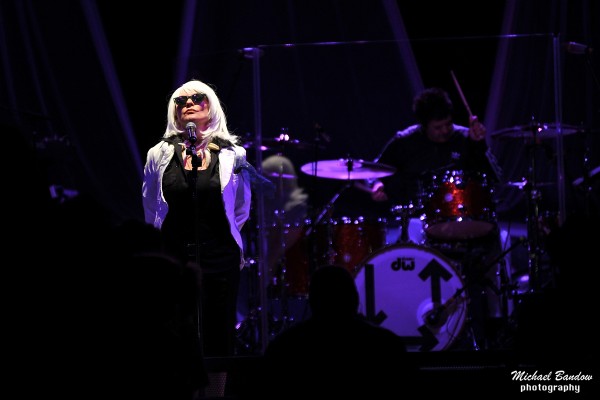 Review By: Shelly Banks
When Blondie took the stage in Council Bluffs Labor Day evening, I was transported back to 1979. Her looks, her moves, her "Blondieness;" all timeless.  She's 66 years old, yet ageless. She's been missing from the music scene for about 8 years, but her performance says she's never left the stage.  She's back on the scene to promote her new release, "Panic of Girls," which drops in the US September 15th.
She gave the audience a great sample of the new album's songs and her first, "D Day," sounded exactly like it came from a 1970's Blondie album. New wave punk mixed with Debbie Harry's raspy vocal will put "D Day," and the reggae-flavored "Girlie Girlie" on Pop radio playlist this fall.
Other new tunes included a sweet ballad called "China Shoes," the rocking pop tune, "What I Heard," and my favorite song of the night, "Horizontal Twist," which is only available as a bonus track on the special edition CD release of "Panic of Girls."
Blondie Performs @ Harrah's Stir Cove
Video By YouTube User: 948314
The band featured founding members Chris Stein, who is better than ever after a rare illness that sidetracked his career.  He appeared healthy and sounded amazing! There would be no Blondie without Chris Stein.
Clem Burke was in top form as expected. His speed and technique is something to be witnessed by any music lover. Twenty year old drummers wish they had the energy Clem has.
The show opened and closed with Blondie classics, "Union City Blues" and "Heart of Glass," with the bands top hits, "Call Me," "Rapture," "Dreaming," "Atomic," "Maria," and "One Way or Another" rounding out the show.
With a great encore of "The Tide is High,"  a fantastic collection of Blondie's biggest hits, and a delicious sample of her new tunes made for a spectacular show that would excite any audience, anytime, any year! Welcome back Blondie, we missed you!
This was my first visit to the Stir Cove outdoor amphitheater. I was impressed with everything from the intimate setting, the stage size, the sound quality, and amenities. It was ranked 57th in the world's top amphitheaters by Pollstar.  They have had many top acts there this summer and still have a few left in their Stir Cove Concert Series.
CLICK HERE to see what's coming up at Stir Concert Cove!