Review – Brian Setzer @ Prairie Meadows Events Center – Altoona, IA 12-3-11
Review – Brian Setzer @ Prairie Meadows Events Center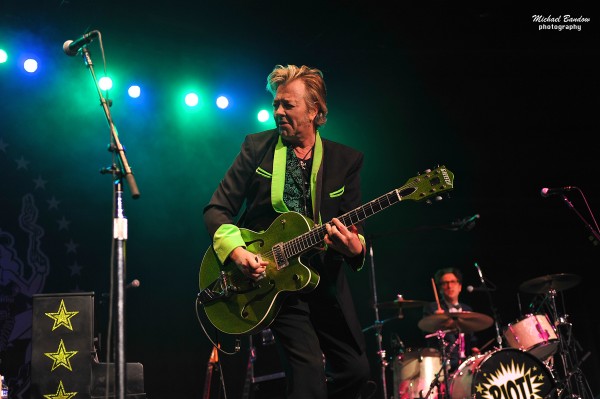 Brian Setzer came and really 'rocked this town!'  This was such a cool show. I've really liked this guy all the way back to the Stray Cats. It was just a band that never came to my area. He is truly the master of Rockabilly.
His current tour is entitled "Rockabilly Riot."  The show features two sets. The first consists of his current band consisting of Brian Setzer on guitar and vocals, Johnny Hatton on upright bass, and Tony Pia on the drums. During the first set, they really rocked out the Rockabilly from Brian's new album, "Setzer Goes Instru-MENTAL!"  This album is also his 11th Grammy nomination.
His guitar work is truly something to see live – a very cool 50's groove to it. The band did a cover of Johnny Cash's "Folsom Prison Blues," which was very cool. The show was basically sold-out, with just a very few seats left to spare. This was one of those shows where no one leaves their seat…you might miss something.
The second half of the show was my favorite, with Brian Setzer throwing the Stray Cats'  hits in there. A very special treat on this tour is during the second half of the show, as it features original Stray Cat drummer, Slim Jim Phantom. It's really cool and unique to see a band featuring upright bass players and a stand-up drummer. Those upright bass guitars are huge and that didn't stop them from twirling, throwing them up in the air over their heads and climbing all over them.
The band's Rockabilly wardrobe was a look right out of the 50's. They would be the coolest band to do a full blown photo shoot with. This show had it all – great Rockabilly music, the funky wardrobe and cool guitars. I felt very lucky to have finally got to see Brian Setzer's magic live and in person.
The show was just under two hours with no opening act. They did two encores, and the crowd absolutely loved the band. This was a very, very cool show!
Brian Setzer's "Rockabilly Riot" tour still has some dates left, but it's not looking like a huge tour. If they come anywhere near your area… you better catch it.