Review – Cheap Trick @ 7 Flags Event Center – Clive, IA 5-27-11
Cheap Trick blessed the 7 Flags Event Center in Clive on Friday night. This could have been the best show this place has seen yet. I am a huge Cheap Trick fan, so I may be a bit biased, but this show seriously rocked that place!
I've seen them about ten times now, and they never disappoint. The first time was on the "One On One Tour" back in 1982. That was the second concert I'd ever seen, and I was hooked on live music.
The second these guys walk out onto the stage you can just feel the vibe. They are in a class all their own. I don't think they have ever really stopped touring since the beginning of the band. They just keep going! The band was dead on all night through there almost hour and 45 minute set.
Robin's voice sounded amazing. Rick's guitars were on fire (as usual) all night! Tom's bass was as trick as ever. I was surprised no Bun E. Carlos, but Rick Nielsen's son, Daxx, was filling in for him and did a great job on drums.
They opened up the show with "Way Of The World" from the "Dream Police" album, which so happens to be my favorite. They had a really spectacular setlist for a Cheap Trick fan. The encore featured my absolute favorite, "Gonna Raise Hell," which completely blew me away. Robin really has to give it his all performing that song, and he did.
Cheap Trick is one of those very few bands that give me goosebumps when they take the stage, and this show was no exception. I just freaking love this band! Rick threw out many pics during the show, but was hoping he'd shower the audience with a box full like I'd seen him do a few other times over the years. I guess that might get a bit pricey!
The absolute high point of my night was waiting by the backstage door to get to show Rick my caricatures of the band by my good friend and professional artist, Kelly Moriarity. I'd been trying to get the band to see these for over 15 years. The second Rick noticed me holding them he was awestruck by them. Kelly is quite an artist and happens to be the second biggest Cheap Trick fan on the planet, next to me -  Ha!
I was dying to get the other members of the band to see them, but they were very pressed for time. I'm working on getting these to the band.  Cheap Trick - thank you for yet another magical show! Iowa loves you guys!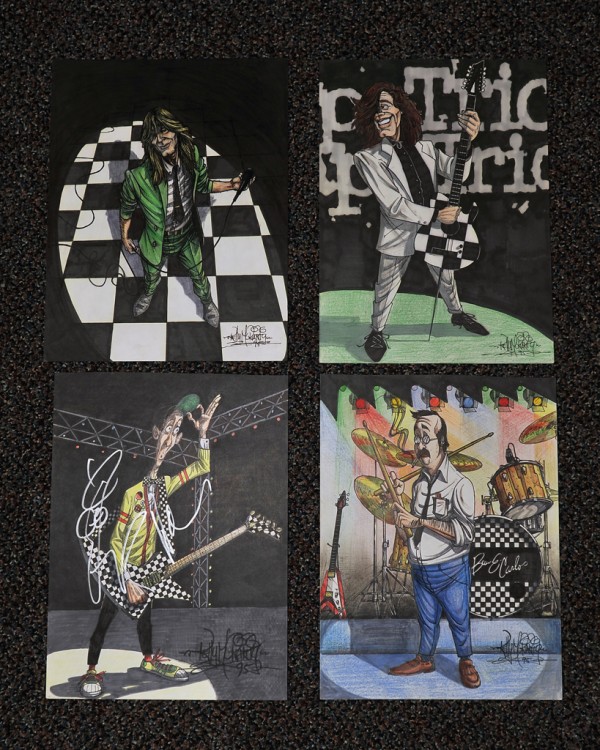 I have to thank the gang at 7 Flags and 95 KGGO for bringing these very cool shows to the Des Moines area. People need to get out to 7 Flags and see these concerts. Seeing a band like Cheap Trick in a club atmosphere is a rare treat.
Check out my photo gallery for some amazing photos from the Cheap Trick show.
Cheap Trick Tour Dates
[bandsintown_events artist="CheapTrick" display_limit="10"]