Review – Citizen Cope @ The Troubadour – West Hollywood, CA – 5/19/11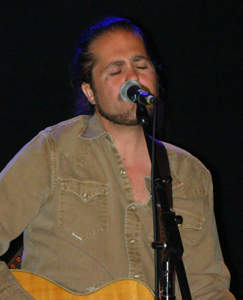 Thursday night, May 19th, 2011, was opening night of a three night, sold out stand at the legendary Troubadour in West Hollywood, starring Citizen Cope, aka Clarence Greenwood. I discovered his music via Napster accidentally in 2002 (as so much of my music has been discovered… so thank you mis-labeled music) and was immediately captivated by his voice and the soul in his songs. Needless to say, when I learned he was playing at The Troubadour, not just one, but three nights, I was pretty fired up to say the least.
The Troubadour was a perfect venue for Citizen Cope's show. His music has such an intimate feel to it, regardless of if he's playing in a giant stadium or a neighborhood coffee shop. He walked onto the stage bringing with him his mellow vibes, outfitted in casual jeans and a corduroy button-down shirt, and, of course, the distinguished man-bun. He picked up his guitar and began to effortlessly play. His reposing nature is conveyed in his voice, seemingly calming the crowd, as he makes eye-contact with its members, one by one, adding to the intimate feel of his performance.
Citizen Cope played two sets in a perfect blend of old and new songs from his albums Citizen Cope, The Clarence Greenwood Recordings and The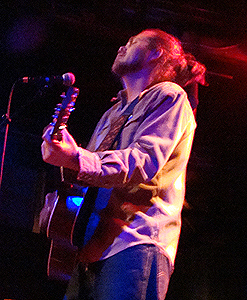 Rainwater LP. While both set were phenomenal, the highlights of the first set for me was "Bullet and a Target" and "Lifeline", both of which are powerful and moving and seemed to envelop the crown in their awesomeness. During the second set Cope played an amazing version of "Out on the Weekend" by Neil Young, followed by "Son's Gonna Rise", and "Sideways", one of his most well-known songs, which Greenwood allowed the audience to sing the first verse and chorus before he jumped in to finish it. He came back for an encore containing two songs, "One Lovely Day" from his upcoming album, followed by "Let the Drummer Kick."
Overall Citizen Cope's show at The Troubadour was absolutely amazing. I couldn't stop watching the videos I had taken during the show for several days afterwards. Each time I watched them I would be taken back, just as I was when I first discovered him and I'd close my eyes and let the music carry me to someplace better. It's definitely going to be a show I will always remember.
Set List for the Troubadour, 5/19/11:
Set 1: Salvation 200,000 (in counterfeit 5o dollar bills) If there's Love Pablo Picasso Bullet and a Target Every Waking Moment Back Together Keep Askin' Healing Hands Lifeline D'Artagnan's Theme Set 2: Holdin' On Out on the Weekend (Neil Young) Son's Gonna Rise Sideways Hurricane Waters Penitentiary More than it Seems Left for Dead Brother Lee Encore: One Lovely Day (new track) Let the Drummer Kick
The tour is continuing through June so if you have ever seen Citizen Cope or plan to see him, don't forget to tell us about it in the comments!