Review – Coles Whalen @ People's Court – Des Moines, IA 3-22-12
Review – Coles Whalen @ People's Court – Des Moines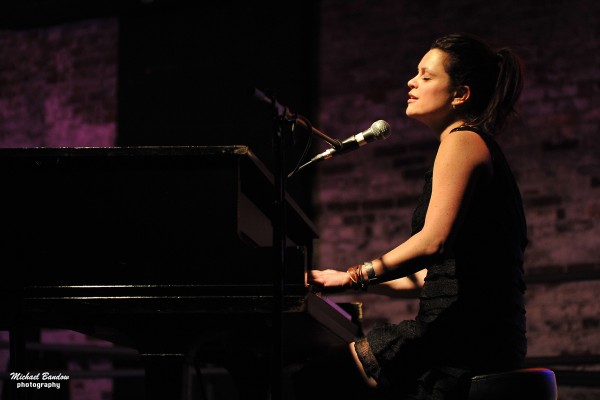 Coles Whalen returned to People's Court in Des Moines for her CD release party. She was one of my first reviews and really good, so I was super excited to have the chance to see her again.
The opening act was Rae Fehring. She opened up for Coles the first time I reviewed. Rae's set consist of her and guitarist, Jennae Kohls. They are quite tight and really good fit together on stage. Rae on vocals and doing some of the guitar work with Jennae being the primary guitar player. The set was kick-back,-relax,- and-let-your-troubles-fade-away-feel-good music. I didn't notice if they had a CD out. I'll have to keep my eye out for one from them. They were really good, and with them being local, I'm sure I'll be seeing more of them around the Des Moines area.
Next up was the main attraction for the evening, the lovely and talented Coles Whalen. This was another scaled back show for Coles. It consisted of her trading back-and-forth between the acoustic and the piano. Kim O'Hara takes care of the bass and the drum box (or Cajon box drum?).  I hope I'm getting it correct, Kim! It's a very unique instrument that you sit on while playing. I'm hoping sometime to catch Coles with her full band, but this setup with the duo works very well.
This show was a release party for her latest album,  "I Wrote This For You."  I actually have the CD spinning in the background, as I write this review. The verdict? Wow! Amazing album. My favorite after the first listen is the song "Chasing Cars." It's a very catchy song with a really cool groove to it. This song should be on the radio here. This is an album that will be in my rotation for some time.
The show kicked butt, like I knew it would. After seeing her last time, it was a no-brainer to see her again. She played quite a few new songs. I really dig the song, "Call On Me," and she played it.
The crowd loved her, but it wasn't a packed house. People need to pay attention when these killer artists roll through town. Coles Whalen is one of those artists. I truly feel it's only a matter of time before she's gonna be too big to do a show at People's Court and will be in larger places…so get to her shows where you can see her in an intimate setting up close!
I'm not sure how to categorize Coles Whalen. Pop fans and country fans alike would totally dig her. It was a great night full of amazing music!