Review – EDC Vegas 2011 Day 2 @ Las Vegas Motor Speedway – Las Vegas, NV 06/25/11
Jun 29th, 2011 | By Poppinoff
Category: Bassnectar, David Guetta, EDC Vegas, Electric Daisy Carnival, Empire Of The Sun, Las Vegas, MSTRKRFT, Rusko, Skrillex, Written Reviews
EDC Vegas 2011 Day 2 recap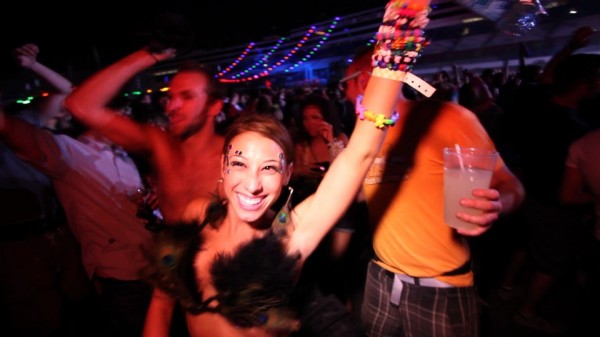 The line up for day two of EDC Vegas was by far my favorite and the day I looked forward to the most.  The Glitch Mob, Afrojack, Bassnectar, Green Velvet, 12th Planet, Empire Of The Sun, David Guetta, Rusko, Chuckie, Jack Beats, Above and Beyond, Sxrillex, Boys Noize and MSTRKRFT were all on the bill and party spirits were still high.
EDC Vegas 2011: Saturday Lineup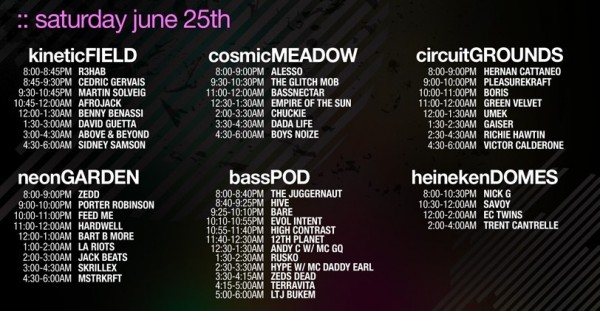 Day two of EDC Vegas was by far the most attended and exciting of the three. I arrived about 30 minutes into Empire Of The Sun's set at the Cosmic Meadow and have to say I was pretty disappointed.  I had seen Empire Of  The Sun two times prior to this, and this show was nothing like the others at all.  The lead singer seemed to be trashed and unable to stand or sing.  The vocals were almost impossible to understand and everything sounded very static.
Next, I was off to the Bass Pod to catch one of my favorites, Rusko!  I have seen Rusko well over 15 times and every time he does more than deliver. He gets the crowd into a frenzy of madness. Seeing Rusko is always such an experience, because he puts so much energy and enthusiasm into his set. Rusko never stops jumping around and always ends up being drenched in sweat by the time he lives the DJ booth.   In addition to dropping a stellar set, Rusko was joined on stage by fire dancers that were spinning fire for a good portion of his set.  My only regret about Rusko's EDC Vegas set is that it wasn't longer.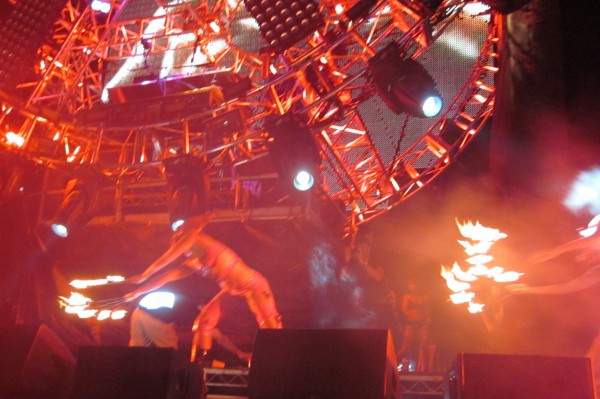 When Rusko's set ended, I made my way to the Kinetic Field to catch the tail end of David Guetta's set.  I have somehow never actually caught a full David Guetta set, but the parts I have seen have always impressed me.  I would have to say the coolest thing about David Guetta's stage show is his fire-shooting  robots (dancers) that make their way around the stage during his set. One of the biggest surprises of EDC Vegas happened during David Guetta's, when the one-and-only Flava Flav took the stage to do some old school MCing. For those of you that don't know, I love MC's, especially those that are characters such as Flava Flav.  Flava didn't MC for very long, but it was more than enough to make my night.
Next, I was off to who I thought was the most over-hyped artist of the night, Skrillex.  I want to start off by saying that I love Skrillex's music, but was really disappointed in his Coachella set. Honestly, I wasn't expecting much from his EDC Vegas performance. The fact of the matter is, people wouldn't stop talking about Skrillex all weekend long. I had to check him out, simply because I needed to have something to talk about with people.  When I arrived at the Neon Garden, the place was packed. It almost looked nothing like it did on Friday night due to the insane amount of people that were there for Skrillex.  We headed to the VIP viewing area, which I did not know about the night before – a killer spot to watch the set.  Buying the VIP ticket to take advantage of the viewing area was the way to go. There was an unobstructed view, you were able to see all of the LCD screens and lights, plus, the sound was at near-perfect level. You could get down and dirty, but didn't have to blow your ear drums out.   I was all set up and ready to see what Skrillex was going to bring. I have to say, he def redeemed himself .
Skrillex's set was beyond sick! He worked out a lot of the transition issues he seemed to have had at Coachella. In addition to playing his tracks and other heavy-dubbers, he dropped in some old-school hip-hop tracks from the likes of Ludacris and Montell Jordan. There is no doubt that Skrillex owned EDC Vegas and won over the insanely large crowd that came to see him.
The night was once again coming to a close, and I was semi-beat  (LOL).  I headed to the Cosmic Meadow, found myself a nice spot on the grass, and jammed out to the music styling of Boys Noize.  This was my 7th time seeing Boys Noize. The crowd was def vibing out, and it was great being able to watch the sun come up as it was all going down.  Watching the sun come up is one of my favorite things about EDC Vegas, because it went from night to day so fast. Everyone just kept on going.  Well, that was Day 2 of EDC Vegas for me. Make sure to comment on this post, and let us know about your experience. -lorn