Review – Estelle @ The Key Club – West Hollywood, CA – 2/9/12
Since Estelle's performance at The Key Club was announced, I've been hype on this show. I only really knew Estelle from her work with Kanye West on the hit single "American Boy," but read up on her a bit and was def looking forward to seeing what she would bring to the stage.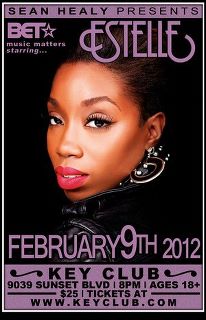 Estelle @ The Key Club Concert Review
This show was part of the BET Music Matters Tour, a tour that featured Estelle amongst other highly skilled musicians. When I arrived at the Key Club, the place was a grooving to the tunes for DJ Richie Rich. Richie Rich always seems to drop some really great beats and gets the crowd hyped throughout the show. I wasn't 100% sure of what to expect from Estelle, but when she took the stage, I knew she was one classy lady. Estelle def had an essence about her and encompassed the look of an old-school Jazz singer.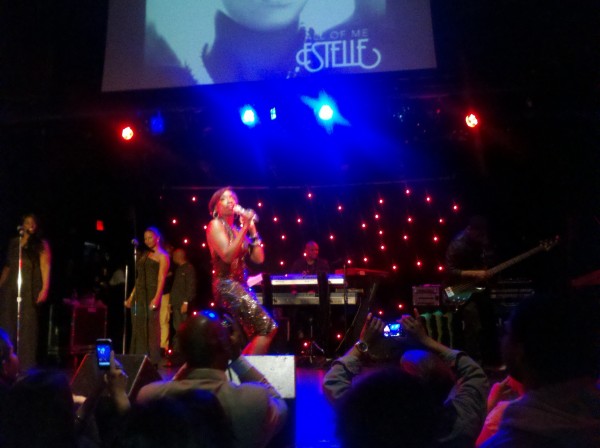 Estelle had a great stage presence and I could tell she was putting a lot of love into her show. I didn't know a lot of Estelle's songs, but I def jammed out to "No Substitute Love," "American Boy,""Freak,""Break My Heart," and her cover of  "You Can't Hurry Love."
Estelle was backed by a DJ, bassist, keyboardist and two back-up singers. For the type of music Estelle performs, I really felt as if this was not nearly enough support for Estelle's voice. I would have liked to have seen Estelle with a full band. I think had she been backed with some sort of  horn, a drummer, and a guitarist, this show would have been taken to a different level.
From the top of the show, Estelle did her damnedest to get the crowd at The Key Club to get down. Unfortunately, the crowd was LA to the max and weren't having it.  There were several points throughout  the show where Estelle asked the crowd to dance, put their hands in the air or to sing-a-long. Estelle was bursting with energy, and the crowd was giving nothing back.
In closing, I def think this show had some shortcomings, but Estelle is a top-notch performer.  She really did give it her all. I can really see her shining, given the right crowd. All in all, another great show at The Key Club.
If you were at this show, or have ever seen Estelle, please comment on this post and let us know what you think…because this is You Tell Concerts, and "When You Tell Concerts…It's Cooler!"
Estelle – "No Substitute Love" (Live @ The Key Club)
,