Review – Filter @ Courtside – Dubuque, IA – 7-17-11
Filter @ Courtside in Dubuque, IA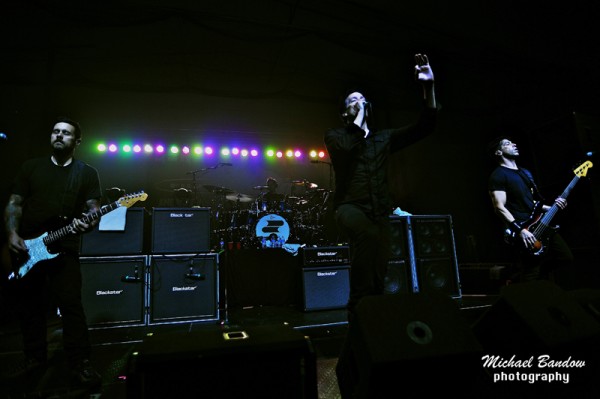 Filter comes to Iowa again; not to my hometown of Des Moines, but Dubuque this time. What, only a 3-hour drive on a work night to see Filter tear up the stage? Oh, give me some! This show was worth every bit of suffering the next day for lack of sleep! This was my third time seeing them, and I am seriously hooked. The new Filter album is one of those rare albums where every single song is great. I'm talking about "The Trouble with Angels." I bought it right after I caught them here in Des Moines last winter, and I can't keep it out of my CD player. Every couple of weeks, I manage to pick a new favorite song from it. It is arguably Filter's best album to date. I could see every song on it being a radio hit.
Video from
BareBonesMusic.com
YouTube Channel
The crowd should have been much, much bigger. Do people not know how amazing these guys are? What's the deal here? They take the stage and it's a musical assault that kicks your butt for over an hour nonstop. They put a few ballads in there to mix it up just right. I like that in a show. Filter opened with a favorite of mine, "No Love." After they kick your ass with that, they slow it down with a cover of ZZ Top's "Gimme All Your Lovin' ," then go straight back to kicking your ass again!
Filter really knows how to bring it. Each band member is polished and tight. The crowd of a couple hundred (I'm guessing) responded well to the band. It was very in hot in the club, with Iowa in the midst of a heat wave, but that didn't seem to bother anyone. Richard got into the show, climbing in, out, and over the crowd barricade several times. A few times I thought the fans were not going to let him go!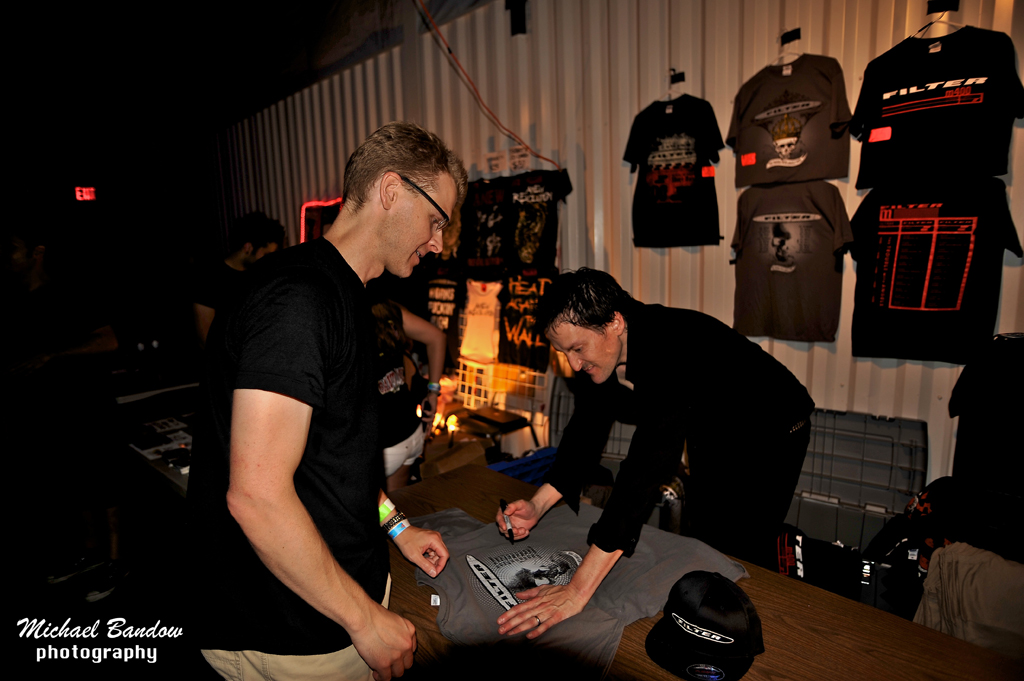 I've said it my it my last review of Filter, and I'll say it again. This is a band that truly cares about their fans. They walk off stage and go straight to the merchandise table for a meet 'n greet – photos and they'll sign everything you got. How cool is that?  You go to see one of your favorite bands, and then you can hang with the guys, get your stuff signed and tell them how much you love them – no rock star attitudes here folks. Very down to earth, cool guys, that love their fans.
If you love Filter as much as I do, you need to see these guys…NOW! They have to be the most under-rated live band touring right now. In a way, it's cool. You get to see them in an intimate setting and up close doing their thing. They are out touring with Saliva, Anew Revolution , and Heart- Set Self-Destruct. The tour, Under The Skin of Angels, just started here in the USA. Get your butt down to this show to have it kicked properly.