Review – Flying Lotus @ The Music Box – Hollywood, CA – 06/23/11
This review of Flying Lotus at The Music Box comes from Jorge Meza. I have to say after reading Jorge's review he knows what he is talking about and  Brainfeeder events and Flying Lotus put on one killer show. -lorn
Here is some Flying Lotus Tuneage to listen to while you read Jorge's review.
Flying Lotus – Zodiac Shift (Sonnymoon Remix)
Flying Lotus @ The Music Box – Review
As I made my way down the halls of the Henry Fonda Theatre / Music Box the saturation of the ambiance bled RED. The only color that exemplifies the feeling and experience a BRAINFEEDER event evokes. This wasn't just any BRAINFEEDER event, this night belonged to the Godfather of the blossoming record label. Flying Lotus was ready to baptize his aficionados and feed their brains a memory they would cherish forever.
The night started off with TEEBS hitting the decks at 9:00pm. His eclectic sounds filled the air and would travel far beyond my naked ear. His vibrant/mystical loops took me on a lucid journey. A cloud of euphoria took my body and soul to a state of pure ecstasy. His unique sounds were different from all the heavy bass artist I was bound to witness. His set was the perfect way to start a melt facing-heavy bass show.
Teebs wrapped up his set around 9:30pm and to everyone's surprise SAMIYAM stepped on stage to inform us that it was his turn. The Michigan producer just dropped his first album so I was pretty stoked to see what compressed instrumental tracks he had in stored for us. Operating on a Roland SP-303 Samiyam made sure to please us fans by dropping heavy bass lines and funky headbangers. Busting flows and shout outs on the mic added the lyrical essence to his set. He dropped plenty tracks from his new album. The crowd really took joy and hearing his head banger WONTON SPECIAL and personally my favorite track MY BUDDY.
The muthaphuking GASLAMP KILLER! stepped up on stage around 10:15pm to show SAMIYAM the love and respect he deserved. The crowd gave roaring shouts of excitement and an immense warm welcoming that made GLK smile and scream " I LOVE L.A " I have seen GLK many times at the one and only LOW END THEORY so I knew how insane it was about to get. Right off the bat his immense energetic personality had the crowd going NUTS! His style was like none other! intense mashups of well known classics. Mixing hits such as Jay-Z's – Dirt off your Shoulder , Lucy in the sky with diamonds by the glorious Beatles and Black Dog by the legendary Led Zepplin. At the peak of his set GLK dropped one of Los Angeles Hip Hop Classics, REAL MUTHAPHUKING G's by Eazy – E. The crowd, including myself, was rapping along to the infamous anthem.
AUSTIN PERALTA on the keyboards and THUNDERCAT on the bass gave the show an unexpected twist. Their jazzy influenced set took the night to a whole another level. Their soothing sound calmed the atmosphere from GLK's thrashing set and prepared our brains for the main act FLYING LOTUS.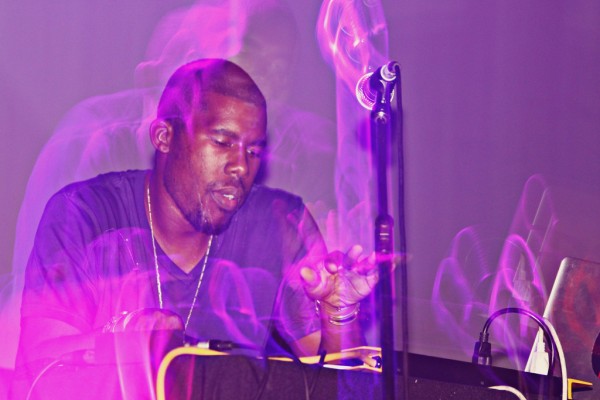 At around midnight Flying Lotus stepped on his throne to literally feed our brains with his indescribable ammo of beats. As Flying Lotus delivered his mind blowing beats, the bass in my face took over my body, my heartbeat synchronized with Flying Lotus finest tracks, allowing me to further experience his blissful performance. One of the most memorable moments was when the special guest female drummer performed Kill Your Co-Workers alongside Flying Lotus. Then later got the crowd moving, even more so, with fan favorites such as, Do The Astro Plane and his Mr. Oizo remix of $tunt. To end the night, Flying Lotus dropped his ultime classic Parisian Goldfish, as the crowd uncontrollably waved their hands in the air to the beats.
As Flying Lotus set came to an end, he stepped down stage to meet, greet, shake hands and even sign merchandise for his loving fans. Overall this Brainfeeder show of various talented artists in the realm of sounds and beats put on more than any fan could have asked for. For all of you who have not had the privilege to witness or hear any of these artists and especially Flying Lotus, I highly suggest to check them out – Jorge Meza