Review – Furthur @ SDSU Open Air Theatre – San Diego, CA – 10/2/12
This review of Futhur at the SDSU Open Air Theatre comes from a long time Deadhead Robert Holmes. This if the first time Robert has submitted a review and we hope to see more work from him in the future. – Poppinoff
Review – Furthur @ Open Air Amphitheater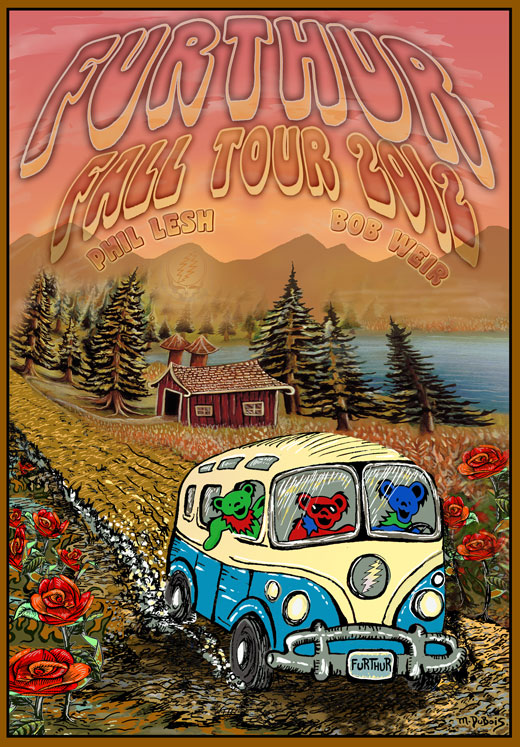 This past Tuesday October 2 2012 I saw FURTHUR at the Open Air Amphitheater at SDSU.   I have seen Furthur several times and have to say for me was one of the greatest. The venue was a little small and there was not a lot of room to dance around but the vibe was very San Diego. A former San Diego resident, I must say that I miss it a lot and and getting to see my favorite band there for the first time was something special. It was by far the smallest spot I have seen them play, and  ss far as the sound I felt it was real good for a college campus amphitheater.
The last time I saw Furthur was in 2011  at the Greek Theater in Los Angeles, CA.  The Greek show gave me a feeling of back into my early 20's, when I saw  the Grateful Dead at Solider Field 1994.  For that show they played "Lucy in the Sky with Diamonds" and after that I was forever a fan.  A year later I got to  see them again but, shortly after that Jerry passed and things changed.
Furthur @ SDSU Open Air Theatre – "Dear Mr. Fantasy"
The set list was a treat and consisted of many of my favorites like "Dear Mr. Fantasy", "Dark Star", "Eyes of the World". The set also featured some surprises.  It was when Furthur started their second set off with  "Iko Iko" that I knew this show was worth the trek from LA. Furthur closed their second set with "Dear Prudence" and added yet another "Beatles" cover to list list of those that I've gotten to see them perform live. The band closed their encore set with "Ripple" I must admit, I almost lost my shit.
In closing I just want to thank all the Furtherheads & Deadheads that were at this show.  I knew  that even though I went to this show alone that I would be among friends. I will always remember this show as it was truly an amazing night in one of the greatest years of my life. – Robert Holmes
Furthur @ SDSU Open Air Theatre Setlist – 10/2/12
Set One
Greatest Story Ever Told
Cold Rain and Snow
El Paso
Lazy River Road
Black Throated Wind
Mason's Children
Cumberland Blues
Casey Jones
Set Two
Aiko Aiko
Estimated Prophet
Dear Mr. Fantasy
(Traffic cover)
New Potato Caboose
Dark Star
Caution (Do Not Stop on Tracks)
Eyes Of The World
Dear Prudence
Encore
At a Siding
Terrapin Station
Ripple